ACO concert Beethoven's Favourite is dominated by strings
Beethoven's Favourite. The Australian Chamber Orchestra. Llewellyn Hall, Saturday November 26, 2016, 8pm.
Guest director Lorenza Borrani infused Saturday evening's performance with "string consciousness". Her preferences for delicacy and exploitation of the many, many developmental shades of pianissimo in slowly building crescendos produced a remarkable sound. Particularly in Schubert's Five Minuets and Six Trios (adapted for string orchestra), the influence of her years as a postgraduate student at Grasz was audible in the supple bowing and refinement of the performance.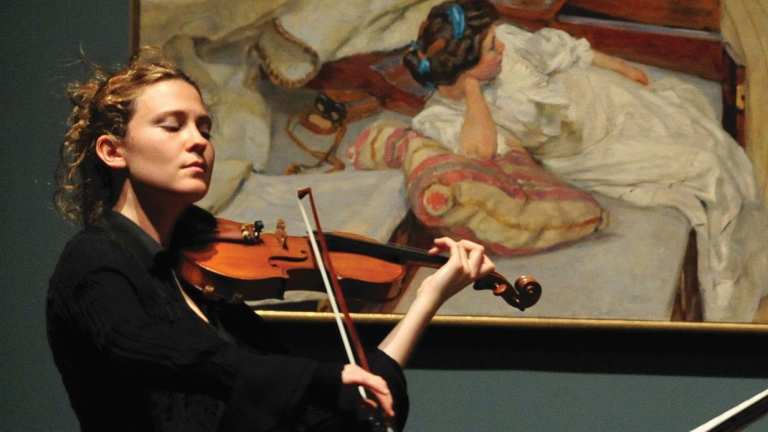 What a joy to hear Alfred Schnittke's Sonata for Violin and Chamber Orchestra played with such intelligence and humour!
Schnittke embraced modern "polystylism" and triumphantly exploited the possibilities of living in the "vast world of sound" promulgated by the newly emerging multimedia environment. His superb ensemble writing supports cheeky recycling of popular tunes and playful redirection of tonality through stealthy modulations.
The sonata is endlessly surprising, technically exciting and very funny. In Schnittke's hands the harpsichord introduces a gothic shiver and the strings with their synchronised slashings in the first movement become a manic extension of this idea.
A master of mimicry, Schnittke creates the illusion there are instruments other than the chamber ensemble present. Surely there is a cathedral organ underpinning that magnificently resonant chord? Is that a giant accordion falling and dangling from the hands of its player in a cascade of protesting dissonance?
The Largo established an effect I have enjoyed in performances of Larry Sitsky's The Way of the Seeker – the eerie sensation that the composer has built an invisible structure around you and you are propelled through this metaphysical space up and down crazy staircases and corridors of sounds. How can you not love this music?
The Schubert trios were a quieter experience for the listener and the transition was rather like waking up from a thrilling dream to find oneself corseted and frilled in a long gown, politely socialising. Still, after adjustment to the time-shift, there was no doubt that this was an authentic, graceful interpretation of music requiring subtle emphasis of dynamic variation and ornamentation. Each of the instrument voices offered comment, reflecting the refined conversation of a courteous society.
I am sceptical about adapting Beethoven's quartets for a larger ensemble. They are moody, often weird (the late quartets) and sound best with the intensity of the original configuration. In this case, the ACO did bring something more to the interpretation – a convincing development of the idea of a collective consciousness exploring the experimental character of the work.
The lovely opening fugue is irresistible and this offers a larger ensemble safe territory to investigate and build sonorities and develop textures to emphasise the emotional elements. In this work the technical ability of the ACO shone in the dramatic quality of the pizzicato sections, the lyrical Adagio and in the final galloping Allegro.