ACT Budget 2016: Budget shows 'rubbish' claims on tram cost, chief minister says
Chief Minister Andrew Barr said Tuesday's budget showed the cost of light rail could be absorbed while maintaining a path to surplus, which he said destroyed "rubbish" claim's about the project's unaffordability.
And Mr Barr has renewed his promise to take plans for stage two of the light rail project, expected to service the parliamentary triangle and Russell, to the electorate before October's local election.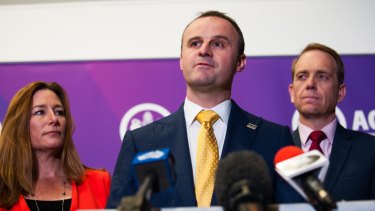 The ACT budget contained no real surprises in the areas of roads and transport, with most of the major projects already announced in an area that is looming as the major election battleground.
The opposition are expected to mount an aggressive campaign against light rail and its significant cost to taxpayers, $939 million in today's dollars, and have pledged money for more buses and road upgrades as an alternative.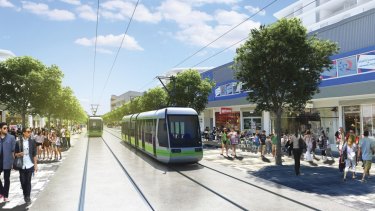 In the weeks leading up to the budget, the government has matched many of the Liberal commitments, particularly on road duplications and new buses.
As expected, the budget included more than $100 million for duplicating Aikman Drive in Belconnen, Ashley Drive in Tuggeranong, the Cotter Road, and Horse Park Drive.
It also included $17 million for 20 new buses, a new city bus loop, a trial of electric buses, and a new direct service to Weston Creek. Funding was provided for a design for a Woden bus depot, a park-and-ride facility at Wanniassa, and for active travel infrastructure at schools.
The only new funding initiative for light rail in Tuesday's budget was $500,000 for a light rail business partnership program, which is designed to "enhance engagement with local businesses" along the stage one route from Gungahlin to Civic.
Some businesses fear the light rail construction will greatly impact their operations by hindering access and discouraging customers.
Mr Barr said the budget, which predicts small surpluses of $33 million in 2018-19 and $66 million in 2019-20, showed the territory was well-able to absorb the cost of light rail.
"So all of that rubbish that was put forward by the opposition about the affordability of this project, completely destroyed by this budget, [it's] very clearly funded," he said.
"It is worth noting that I was the only state or territory leader able to get Tony Abbott to fund a light rail project in this country. I got Tony Abbott to fund an urban rail project."
The government revealed in March that it was considering a more ambitious stage two route for light rail, considering extending it to not only Russell, but to the broader parliamentary triangle, possibly including the airport and Australian National University.
On Tuesday, Mr Barr committed to showing Canberrans the full plan for stage two prior to the October election.
"People will know when they go to vote in October where we are taking the project next," he said.
Mr Barr said the capital component of the light rail project would be less than one per cent of the ACT budget.
"By the time the treasurer of 2037-38, who I promise you won't be me, gets up to deliver their budget, in the last full year of the light rail contract, the ACT budget is anticipated to be around $13.5 billion," he said.
"The final availability payment is $75.6 million, a tiny fraction of the territory budget.
"So this is an affordable project for the territory, and we have demonstrated in this budget that we can deliver the project and deliver budget surpluses."
Transport and road infrastructure
- More than $100 million for duplication works at Ashley Drive, Aikman Drive, Horse Park Drive, and Cotter Road
- $17 million for new transport services, including $10 million over two years for 20 new buses, and $3.5 million for a direct bus line to Weston Creek
- $500,000 for a light rail business partnership, designed to engage local businesses along the stage one route from Gungahlin to Civic
Christopher Knaus is a reporter for The Canberra Times.