ACT Catholic school staff to strike on Monday, December 4
Some Catholic school teachers will strike on Monday as tensions between their union and employer escalate over a proposed new enterprise agreement.
Catholic school employees within the Archdiocese of Canberra and Goulburn have not received a pay rise for about a year as the Independent Education Union and the Catholic Commission for Employment Relations battle over how to best settle disputes.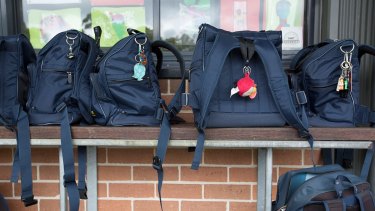 The Independent Education Union wants the new contract to include the right to call in the Fair Work Commission for arbitration when disagreements can't be settled in-house. The commission would rather maintain the status quo, where such a deal hasn't been made in writing.
The union has been further angered by the commission's plan to put its proposed agreement to staff on Tuesday without receiving the union's nod.
"This has never been done before in Australian history," union NSW/ACT secretary John Quessy said.
"Catholic employers are coming for our members' rights and they will not tolerate that. We are urging a 'no' vote."
Monday's strike will be the second since early November, when 200 ACT teachers and support staff walked off the job for half the day.
"It is clear they want absolute power over their employees and the members are standing firm against this," Mr Quessy said.
Catholic Archdiocese of Canberra and Goulburn education director Ross Fox said his office was keen to see the dispute settled quickly to ensure staff could receive their backdated pay increase before the Christmas break.
He questioned why the union had rejected a clause already settled in 450 private schools throughout New South Wales and the ACT.
"If the vote endorses the agreement Catholic Education will not wait for the Fair Work Commission process which could take months," he said.
"Staff in Catholic schools will be paid the backdated pay increases as soon as possible.
"I respect the right of every employee to take protected industrial action. Catholic schools will ensure staff who wish to strike at this busy time of the year are able to do so while ensuring minimum disruption to teaching and learning and the safety and wellbeing of the children in our care."
Teachers in about 350 schools across the ACT and New South Wales will strike for four hours at the start of the school day.
Emily Baker is a reporter for the Sunday Canberra Times. She previously reported on education for The Canberra Times.