ACT college results: Fewer students admitted to tertiary, more completing year 12
The percentage of ACT college students awarded an Australian Tertiary Admission Rank dropped 2 per cent this year, while more students completed year 12.
An analysis by the Board of Senior Secondary Studies found 61 per cent of students completed a tertiary entrance package in 2015, down from 63 per cent in both 2014 and 2013.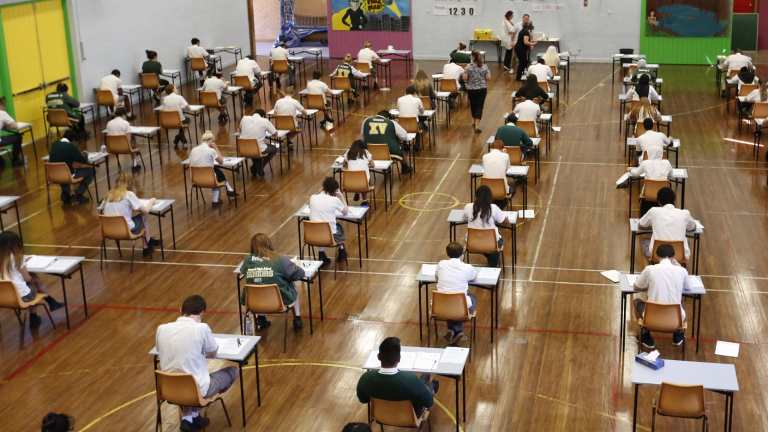 A total of 4523 Senior Secondary Certificates (previously Year 12 Certificates) were awarded, up from 4405 in 2014 and 4283 the year before.
The median ATAR across schools remains 77.65, which has changed less than 1 per cent in the past four years.
The percentage of students whose ATAR was equal to or above 65, the cut-off for general admission into a local university, has also remained relatively steady at 76 per cent.
A vocational qualification was awarded to 2337 students, mostly in tourism, travel and hospitality. The next-most-popular area was Information and Communications Technology.
Radford College again topped results for the highest median ATAR at 89.55. Canberra Girls' Grammar trailed close behind at 88.45, with Trinity Christian School coming in third at 86.25.
These three colleges also had the highest percentage of students with an ATAR equal to or above 65, with Radford College placed first (94 per cent), Trinity Christian School second (88 per cent), and Canberra Girls' Grammar third (86 per cent). Three or fewer students from each of these colleges were awarded vocational packages.
Four colleges had 90 or more per cent of students complete a tertiary package - Canberra Girls Grammar (99 per cent), Radford College (93 per cent), Burgmann Anglican School (91 per cent) and Brindabella Christian College (90 per cent).
Gungahlin College was awarded the most number of vocational packages at 284, followed by St Mary MacKillop College at 216 and University of Canberra Senior Secondary College Lake Ginninderra at 210.
The lowest-performing college based on academic results was Erindale College, which had the smallest percentage of students awarded a tertiary package - 30 per cent - and the lowest median ATAR score - 65.95.
The second and third-lowest median ATAR scores went to St Edmund's College and UC SSC Lake Ginninderra, both slightly under 70.
ACT BSSS chairwoman Rosemary Follett announced that new courses would be integrated into the Australian curriculum for colleges in 2016.
"In my role as chair, I've ensured that the board is focusing outwards and is committed to researching and reviewing its policies and processes to ensure they continue to address the needs of all of our students," Ms Follett said.
The most popular courses across ACT colleges this year were English and maths, with nearly 100 per cent of students taking English and more than 90 per cent taking maths.
Slightly more than 30 per cent took PE and religious studies, followed by behavioural science, biology, chemistry, economics, accounting and business.
More than 100 students were recognised at the ACT Government's Board of Secondary Studies Recognition of Excellence ceremony on Tuesday, for achievements in community services, performing/visual arts, vocational studies, academic studies and Aboriginal and Torres Strait Islander Awards.
ACT Minister for Education and Training Joy Burch congratulated local year 12 graduates at the ceremony.
"These young men and women have shown themselves to be compassionate, proactive, insightful, creative and intelligent members of our community," Ms Burch said.
"I have no doubt that these attributes will serve them well when they finish school and go on their next great adventure."
This was the first year the Year 12 Certificate was replaced by the ACT Senior Secondary Certificate and brings the ACT into line with other states and territories.
Canberra's top performers from each college:
Brindabella Christian College: Mathias Everson
Burgmann Anglican School: Keeley Hoek (One of ACT's two top students awarded the highest possible ATAR - 99.95)
Canberra College: Daniel Leditschke
Canberra Girls' Grammar School: Cherie (Qian) Teng
Canberra Institute of Technology: Sita Sargeant
Daramalan College: Oliver Levi-Malouf
Dickson College: Joseph Quinn
Erindale College: Jonathan Connor
Gungahlin College: Michael Cherryh
Hawker College: Tahirrae Slikker
Lake Tuggeranong College: Qi Sun
Marist College: Ethan Beaumont (One of ACT's two top students awarded the highest possible ATAR - 99.95)
Melba Copland Secondary School: Sarah Buchhorn
Merici College: Jacklyn Ersan
Narrabundah College: Jenny Wang
Orana Steiner School: Grace McIntyre
Radford College: Laura Roden
St Clare's College: Angie Lu
St Edmund's College: Fraser Doverty
St Francis Xavier College: Vanessa Lavis
St Mary MacKillop College: Amy-Leah Tepes
Trinity Christian School: Jack Grant
UC Senior Secondary College, Lake Ginninderra: Judah Trueman
Clare Sibthorpe is a reporter for The Canberra Times