ACT considers gruelling new fitness test for firefighter recruits
ACT Fire and Rescue will look at introducing a tough new fitness test for its recruits that is better tailored to the physical demands of an urban firefighter.
The physical aptitude test was designed by exercise physiologists at the University of Wollongong and introduced for would-be firefighters in NSW two years ago.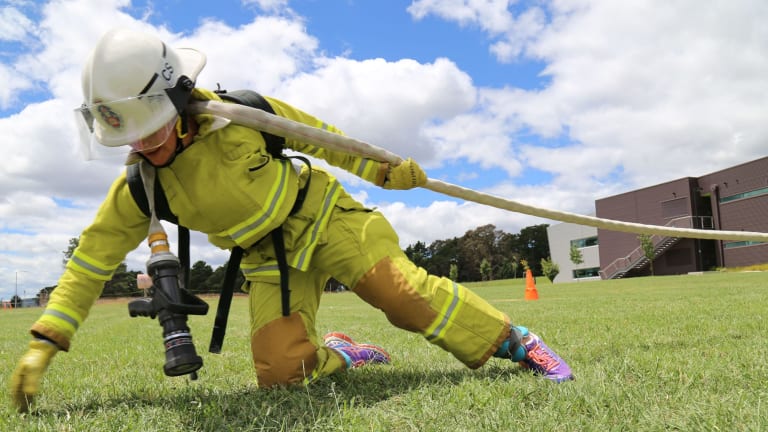 It would see the traditional "beep test", which is currently used to gauge fitness levels for recruits in the ACT, replaced by a rigorous set of physical challenges that men and women would carry out in full firefighting gear.
NSW Fire and Rescue chief superintendent Craig Brierley visited the ESA's Fairbairn headquarters to put several territory firefighters through their paces as they tried the new Physical Aptitude (PAT) test on Thursday.
ACT Fire and Rescue acting chief officer Conrad Barr said current fitness tests used in the ACT measured strength and aerobic capacity and included a dummy drag, ladder raise and hose drag.
"What we're always about is having the best, most effective and fair testing process for our recruits."
He said the NSW assessment looked at capacity to carry out certain tasks, such as a recruit being able to lift a ladder over their head, rather than the specific technique the recruit used.
"What they've tried to do is to make sure that the physical abilities they test relate to the requirements for a firefighter without having a bias towards technique."
He said the NSW fitness test also used fewer resources and didn't rely on bulky equipment, such as fire trucks, so was easier to carry out at different locations.
Although the territory's firefighting service is not currently recruiting, Mr Barr said the agency reviewed and changed its recruitment methods as part of an "ongoing process".
"We've changed our process many times over the years when we've become aware of new equipment or of some kind of bias in what we're testing."
Mr Barr said the new fitness challenge, which NSW Fire and Rescue will showcase in other states and territories, was a "significant contribution" to testing methods.
But he said the agency had yet to make a decision on whether the test would be implemented in the territory.
"Right at the moment we're not in a place to make a decision, we have a consultation process we would have to go through."

Megan Gorrey is a reporter at the Sydney Morning Herald. She was previously a reporter at The Canberra Times.
Morning & Afternoon Newsletter
Delivered Mon–Fri.