ACT container deposit scheme will sting consumers $49 million over 20 years
Consumers will be the biggest losers under the ACT's proposed container deposit scheme, which is estimated to sting them a combined $49 million over 20 years.
The biggest winners will be the government and those enlisted to run the scheme, which is expected to deliver environmental benefits worth $71 million over the same timeframe.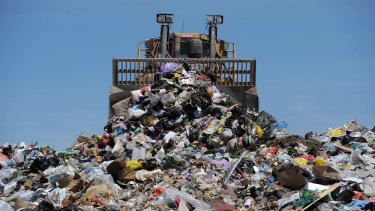 The costs and benefits are outlined in a regulatory impact statement released for public consultation earlier this week by Transport Canberra and City Services.
Under the scheme, a refund of 10 cents per unit will be paid to anyone who recycles an empty container at one of 11 approved depots within the territory.
However, this refund will be offset as those same consumers bear the brunt of costs associated with setting-up and running the initiative.
"Consumers will face higher prices for beverages covered by the scheme, as the scheme costs and increased compliance costs incurred by beverage manufacturers will ultimately be passed on to them," the impact statement read.
This could cost the average consumer as much as 22 cents more every week, according to government modelling.
In New South Wales a container deposit scheme with the same refund of ten cents per container has been estimated to add as much as $3.60 to a case of beer, according to research from the Australian Beverages Council.
The ACT government will design the container deposit scheme to "align" with the initiative in New South Wales to minimise "costs and confusion" between the jurisdictions.
The food and beverage industry faces little to no net impact as a result of the ACT scheme, with regulatory analysis assuming all costs will be passed on to consumers.
The ACT government will benefit to the tune of $3.2 million, with benefits coming from increased GST revenue and savings associated with reductions in litter collection services.
Those enlisted to run the scheme are also expected to benefit from "expanded business opportunities".
Environmental benefits from the ACT container deposit scheme have been estimated at $71 million over 20 years.
These benefits come from savings associated with the cost of collecting and disposing of litter that may not have otherwise been recycled.
ACT government analysis anticipated that, by 2037, the container deposit scheme will result in the recycling of 515 million additional beverage containers and 424 million fewer containers going to the tip.
The government estimated that for every $1 spent on the ACT's container deposit scheme, there will be $1.79 of economic benefit.
This translated into a net economic benefit of $40 million over 20 years.
Transport and City Services Minister Meegan Fitzharris said the scheme would reduce environmental damage and promote better recycling.
"This is due in part to the ACT scheme's emphasis on harmonisation with the NSW scheme, ensuring that individuals and small business owners in the ACT and surrounding areas face a seamless regulatory environment and experience with the CDS," she said.
Steven Trask is a reporter for The Canberra Times