ACT government calls for public's help to fight illegal graffiti
The ACT government is calling on extra hands to help clean up illegal graffiti after a six-month period that saw 15,000 square metres of government property defaced – three times the amount of space available on legal art walls.
Community groups and individuals have been urged to take part in a new graffiti-buster volunteer program, targeting vandalism to private property, starting in Kambah due to "strong community interest" in the area.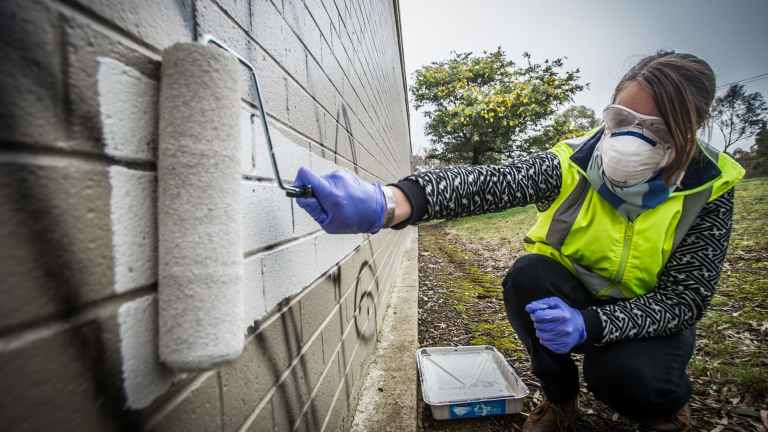 Neighbourhood Watch, Crime Stoppers and the Lions Club have expressed interest in the program and Transport Minister Meegan Fitzharris, who announced the initiative, said she was looking for more volunteers.
"Initially, the program will focus on assets in the Kambah district, with the potential for other areas of Canberra to be included as the graffiti-buster initiative grows," she said.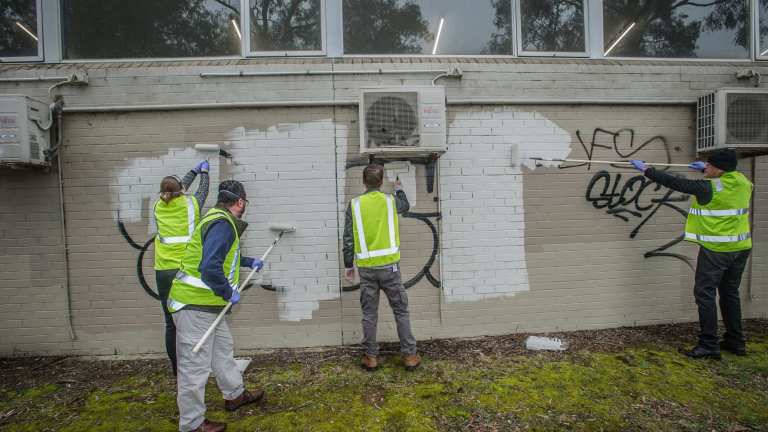 "Research has shown that prompt and persistent removal of illegal graffiti discourages repeat vandalism. It not only reduces the recognition that vandals desire but also indicates the area is being monitored."
ACT Graffiti Management co-ordinator Louise Emberson has been in the job for six months, and her role has been extended to July next year.
She said much of her work had involved meeting community and youth groups, businesses and artists in order to discourage illegal graffiti and "encourage it in more suitable areas".
"A mural has been painted on Hillside Lane in Civic and some new artwork will soon be painted in Braddon as part of a project with Canberra artists and local young people," she said.
Margaret Pearson, president of the ACT Neighbourhood Watch Association, said she was increasingly concerned about graffiti in Canberra's suburbs and valued the public's support in helping authorities and community groups stay on top of the issue.
"You probably have to get rid of the graffiti three or four times before they move on and give up," she said.
"Illegal graffiti, which is of course different to legal graffiti art – really takes down the tone of the suburbs."
She said Kambah was a hotspot for vandals and was sending about 15 volunteers to help with the graffiti-buster initiative.
The ACT government removes illegal graffiti in public spaces but owners are responsible for removing vandalism on their property.
An ACT Policing spokeswoman said the offence of defacing a premises, which includes a person sticking on a note or marking it with chalk, paint or any other material, is $7500 or six months' imprisonment.