While cyclists, academics and the ACT Government may be disappointed in the relatively slow rate at which cyclist numbers are increasing across Canberra, they can take solace in the fact definite and measurable growth has occurred.
The current target, of having seven per cent of Canberrans cycling to work by 2026, was widely acknowledged as extremely ambitious when it was originally set back in 2015.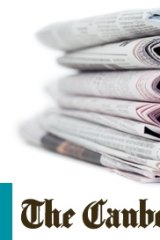 The proportion of Canberrans riding to work had risen from 2.1 per cent in 2006 to 2.4 per cent by 2011. Today it stands at a relatively healthy three per cent.
While comparisons with other cities are likely to be seriously flawed given differences in climate, topography, the availability of public transport and investments in cycling infrastructure, many Canberrans are obviously making the most of what they've got.
ABS data indicates more Canberrans are cycling and walking to the office than anywhere else in the country.
The importance of a wide range of variables, including trip distances and access to safe bicycle and walking paths, is demonstrated by the fact that in some parts of the ACT, such as north Canberra, up to 11 per cent of residents regularly pedal to the office.
Our hub and spoke urban design, while commendable in many ways, is not the best news for cyclists and pedestrians trying to make it to the office on time.
We also have extremes of climate, which include freezing winters and red hot summers, to contend with.
All of this suggests locality based targets, prioritising areas where the terrain and the distances are amenable to cycling, would make more sense than just setting an overarching number for the entire jurisdiction.
It is extremely unlikely somebody who lives in Tuggeranong and works in Civic, Mitchell or Russell would ever choose to ride to work on a daily basis.
It would make more sense to encourage that person to utilise public transport equipped with a bike carrier or to establish a low cost and easily accessible "park and ride" hub within an easy cycle of where they need to be.
A seasonal approach would also make sense given spring and autumn, the balmy bookends of the period encompassed by daylight saving, are the optimal times for bicycle commuting in these latitudes.
While increasing cyclist numbers was never going to be an easy goal, there is no doubt it is a very worthwhile one with wins on many levels.
Not only do people who ride to work get valuable exercise, becoming fitter and healthier as a result, but by swapping four wheels for two they are reducing traffic congestion, air pollution and a host of other nasties.
One major impediment, which will require much ongoing work to address, is the remarkable degree of hostility to cyclists that exists amongst some drivers.
Every regular rider has a road rage story to tell and local social media groups are flooded with aggressive posts targeting individuals who just want their fair share of the road.
Perhaps a more concerted public education campaign spelling out the rights of cyclists and educating drivers of the safest ways to manage their encounters with bikes on roads might go some way to softening some of those hardened attitudes that deter many potential riders from getting on a bike.