ACT gun ownership levels remain stable, as national amnesty continues
Gun ownership in Canberra has largely remained stable over the past 18 months, with only 30 new firearms being registered in the ACT during that time.
There are now 19,230 guns registered with ACT Policing, a slight increase from 19,200 at the beginning of 2016.
The number of registered gun owners in the ACT has also remained stable, with there being about 6000 registered owners, according to territory police.
ACT Police were not able to provide an exact figure on the number of registered owners in Canberra.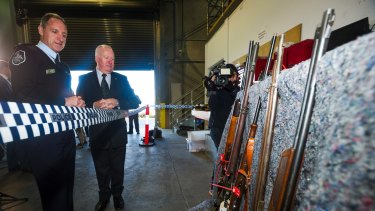 The slight increase in the number of firearms comes in the middle of a national gun amnesty, which started at the beginning of the July and will run until the end of September.
It's the first national amnesty since the gun buy back scheme in 1996, which was brought in following the Port Arthur massacre.
As of this week, ACT gun owners have handed back 214 firearms.
The ACT last had an amnesty in 2003, where 10 firearms were handed in to police.
The spokesman for ACT Police said they were "unable to speculate on the number of illegal firearms in the ACT".
It is estimated there is one gun for every 20 people living in Canberra.
"There is no limit to the amount of firearms someone can own," the spokesman said.
"Each permit to acquire a firearm requires the applicant to have a genuine reason to possess the firearm."
Sporting Shooters Association of Australia ACT president David True said the increase over the past year has been consistent with the growth in registered firearms in Canberra.
"It hasn't gone up that much," he said.
"It's only been growing at around 3 per cent, and that accounts for the number of firearms."
Mr True said on average he sees 40 people a month come through the club for a safety course, one of the prerequisites to attaining a firearms licence.
"Our biggest growth spurt was in 1996 when there was the buy back and people had to join a club in order to have a licence," he said.
The association's president said the current gun amnesty would not lead to a significant decrease in the number of illegal guns in the ACT.
"The amnesty is more so if people have their father's or grandfather's firearm that haven't been registered and is sitting in a cupboard or shed and people take them in," Mr True said.
"The police would like criminals to hand in firearms, but they aren't going to hand them in."
Andrew Brown is a journalist at the Sunday Canberra Times. Andrew has worked at the Canberra Times since 2016.