ACT Parks electric mountain bike trial proves popular with employees
ACT parks staff have come up with a novel way to get around the capital more efficiently - on electric mountain bikes in Canberra's nature reserves.
The pilot program has been under way for six months, and GPS trackers are being used to determine how often they're ridden and how far.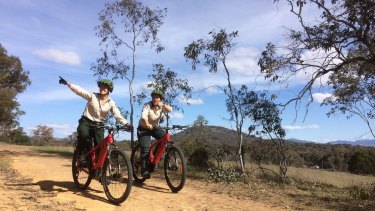 Volunteer programs manager Alison McLeod said the bikes are "very good fun".
"They are a really effective tool for getting out there and doing survey work, patrolling the parks, getting to and from meetings, and seeing what's happening in our reserves," Ms McLeod said.
"Usually when we do all those things we take a car, usually a big diesel four-wheel drive. So by using the bikes we're reducing emissions and it also gives us an opportunity to travel at a different pace, to see more of what's going on in the environment and to interact with the community as well."
The three bikes in the current collection are based at the Stromlo depot but in the past staff have ridden them across the capital, including out to Tidbinbilla.
"We've taken them to the Arboretum, through all the Canberra Nature Parks to our different depots, and we've ridden them out at Tidbinbilla before which is really beautiful. The 14km loop road is great at Tidbinbilla because you're getting to ride among the wildlife out there as well, so lots of kangaroos and emus."
Ms McLeod said the e-bikes were bound by the same regulations as any other bike.
"We're allowed to go anywhere a regular bike can go. These bikes are pedal-assist, so they're for those of us who are a little less fit, or just want to ride a bit further than normal."
She said they don't go very fast, but they do help you get over a hill.
"They're silent, so they don't scare the other people on the trails or the horses or anything like that. They look and sound like a regular bike."
Ms McLeod said the bikes can be quicker than using a car because they can go through the nature reserve system.
"They're just so handy in Canberra," she said.
Kimberley Le Lievre is the Editor of The Sunday Canberra Times