ACT same-sex marriage campaign to cost $45,000
The ACT government's pro-same sex marriage campaign is expected to cost $45,000 in "community engagement activities" and be funded out of the existing budget.
Chief Minister Andrew Barr announced the campaign with much fanfare a week ago, but the government has to date been tight-lipped on what it would cost, saying only that most of it was "in kind" support.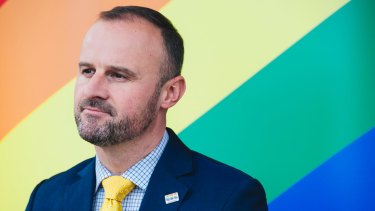 While the legislative assembly, with Greens support, voted in favour of the campaign, opposition leader Alistair Coe has criticised it for only supporting one side of the debate and using public assets for political campaigning.
Mr Barr has argued that given the territory government has an official policy supporting a LGBTIQ-inclusive community, one taken to last year's election, that it was a legitimate use of public funds.
ACT Public Sector Standards Commissioner Bronwen Overton-Clarke has also clarified that territory government staff can campaign for either side in their own time, but not in an official capacity.
Mr Barr has now confirmed funds for the campaign will come from existing budgets and will not involve any traditional advertising.
Under the territory government's campaign advertising rules, all government campaigns costing $40,000 or more have to be independently reviewed, but the lack of actual media buys for this campaign will avoid the extra oversight.
Mr Barr has confirmed the new Office of LGBTIQ Affairs will direct $45,000 of its $340,000 annual budget on "various community engagement activities to promote inclusion" in the lead up to the federal government's postal vote.
Without paying for advertising, it is likely the campaign will mostly involve the Office having a presence at public events around the capital, as well as likely generating a low-cost social media campaign.
Mr Barr said a further $105,000 was already going to a consortium of community services that already provided counselling to the LGBTIQ community "to help manage increased demand as a result of this divisive process".
A further $10,000 was already allocated in this year's budget for the AIDS Action Council to host its annual fair day in October, which Mr Barr said was a further opportunity for "community engagement opportunities".
He also said that other state government's were "making similar commitments", citing the Victorian government's pledge to spend $1 million on similar activities last week.
Daniel Burdon is a reporter for The Canberra Times