ACT VW owners feel betrayed by cheating scandal
Click here to check if your Volkswagen diesel has been affected.
Video: Some VW petrol models now affected.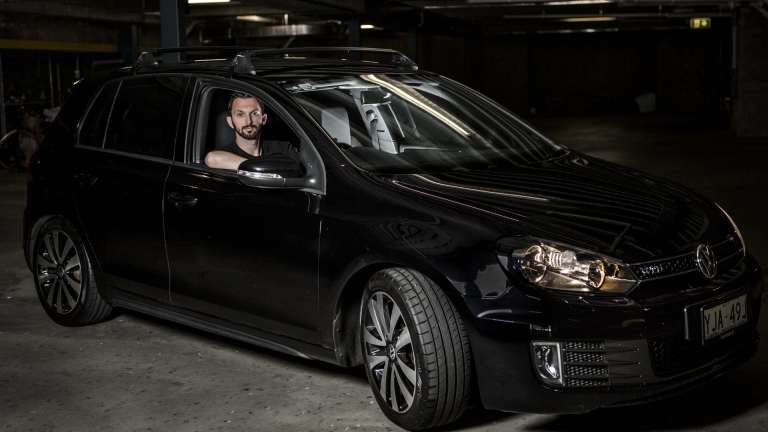 Watson Volkswagen aficionado Justin Graf felt betrayed when he learnt the company he had trusted for decades deliberately deceived customers by using cheating software to rort emissions tests on some diesels.
"I had a 1974 Kombi as my first car and this [2012 Golf GTD] is my second Volkswagen Golf," the 35-year-old public servant said.
"My big concern is the resale; the impact it [the bad publicity] will have on my hip pocket."
Mr Graf's concerns are shared by Palmerston's Michael Ward, a 53-year-old former soldier turned public servant who "treated" himself with a new Volkswagen Tiguan​ "softroader​" in 2009.
"It was my first Volkswagen and my first brand new car," Mr Ward said. "It wasn't cheap; it's $44,000 worth [to replace]."
They are just two of more than 11 million Volkswagen, Skoda and Audi customers worldwide, about 91,000 of whom are in Australia, who bought diesels that promised class-leading power and fuel economy.
That performance came at the price of unacceptably high nitrous oxide emissions now said to be 40 times greater than the limit set by the United States Environment Protection Agency.
Both men have signed up for class actions against Volkswagen Australia to protect their investments. Mr Graf is with Bannister Law and Mr Ward is with Maurice Blackburn.
Of the 10,484 owners registered with Maurice Blackburn, 395 are in the ACT. Bannister Law won't say how many Canberrans have joined its action but said the number Australia-wide was "now into the thousands".
While Australian agencies, including Glass's Dealer Guide, have said local values have not yet been affected, they are watching prices closely.
American authorities have reported falls of 10 to 12 per cent for Volkswagen diesels fitted with the so-called "defeat software".
This lets the car computer detect exhaust gas testing and changes the engine mode to minimise emissions.
Volkswagen in America moved to rebuild its rapport with affected owners on Monday , taking out advertisements to promote a US$1000-plus goodwill package.
Australian owners, who have been told Volkswagen is still working on a local fix and they may have to wait until the end of next year before their cars are made compliant, have not been offered anything. They are understandably angry.
"It is disappointing [this is not being offered here]," Mr Graf said. "I've only had one letter from Volkswagen and when I went into the dealership [Gerald Slaven Volkswagen] they couldn't give me any information."
Mr Ward, who has been dealing with Lennock Volkswagen, contacted Volkswagen Australia directly.
"I haven't taken out my frustrations on the dealership," he said, "they are just the meat in the sandwich."
Mr Ward said the lack of action was one reason he had signed on for the class action.
"I'm not after a dollar; I'm strongly of the view they should be held to account," he said."
He wants owners compensated for any fall in the value of their cars.
"Say your car was worth $25,000 and this falls to $15,000 [because of the scandal]," he said. "They should do a top up [now], regardless of whether you sell the car or not."
Mr Graf, whose father and grandfather came to Australia from Germany, has loved the country's cars from an early age.
"Because we move overseas every few years for my wife's work we know we will be selling the Golf in 12 to 18 months," he said. "I had a pretty clear idea of what the depreciation would be but that has now changed."
Mr Graf and Mr Ward fear the emissions fix, when it finally comes, may increase fuel consumption and reduce performance.
"I hope VW provide some assurance it [the fix] won't affect performance and fuel consumption," Mr Graf said. "If it does, then I would definitely reconsider having the [new] software installed."
David Ellery is a reporter for The Canberra Times.