Activists vow to disrupt shooting as roo cull approved by tribunal
Professional shooters could begin culling eastern grey kangaroos in seven Canberra nature reserves as early as Thursday night after a tribunal approved a scaled-back control program.
Animal liberationists have vowed to try to disrupt the culling and will focus much of their efforts on the Goorooyarroo Nature Reserve, where a licence has been granted for 740 kangaroos to be shot.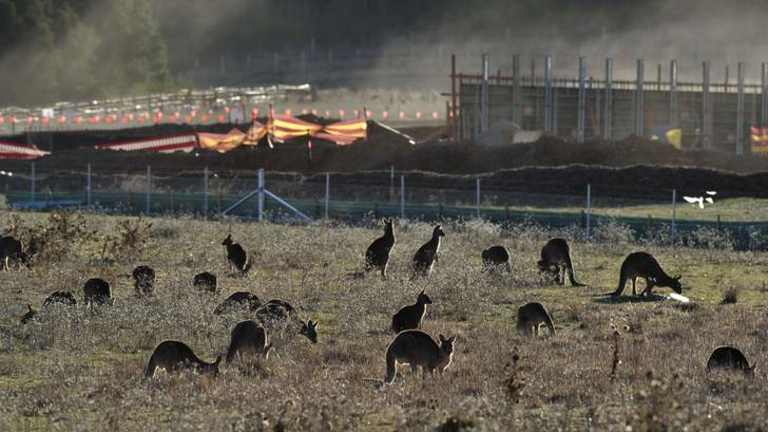 The ACT Civil and Administrative Tribunal on Wednesday approved licences for kangaroos to be culled at seven sites. But the tribunal ruled that only 1244 kangaroos could be shot – 211 fewer than originally approved by the Conservator of Flora and Fauna.
The ACT's designated kangaroo culling period concludes at the end of July, leaving authorities with little time to complete the operation.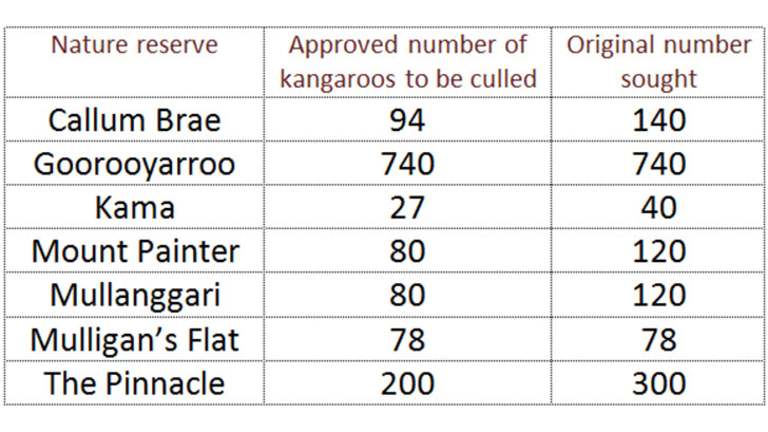 The designated culling sites were due to be closed to the public at midday on Thursday to enable shooting to begin.
Animal Liberation ACT spokeswoman Carolyn Drew said more kangaroos than the 1244 would die because the figure did not take into account small dependant animals that would be orphaned.
"It'll be within the range of closer to 2000 that they'll end up killing if they manage to kill that many,'' Ms Drew said.
Ms Drew said her group was particularly concerned about protecting the kangaroos at Goorooyarroo.
"We will focus on very intensely on that particular reserve. But the other reserves will also have teams of activists who sit around the various gates so we wait, watch and then we take action as needed,'' she said.
The Australian Society for Kangaroos launched action in the tribunal in June to stop the cull.
The tribunal accepted evidence from government ecologist Don Fletcher that an appropriate number of kangaroos per hectare was between 0.6 and 1.5, which the government aimed to have one kangaroo per hectare.
But appeal president Bill Stefaniak and senior members Allan Anforth and Adrian Davey decided that the cull should aim to leave about 1.5 kangaroos per hectare.
The Australian Society for Kangaroos expert witness, Raymond Mjadwesch, had told the tribunal that it was ecologically appropriate for several more kangaroos per hectare to live on the reserves.
Outside the tribunal, ACT Parks and Conservation director Daniel Iglesias said as much of the cull would be completed as possible before the July 31 deadline.
"We originally had an eight-week period and now we've only got a period of four weeks or so. So we will do our best to do what we can with the time that we have available to us,'' he said.
Kangaroo culling takes place only in the ACT during the colder months to reduce the chances of younger animals being killed.
The ACT government argued that kangaroo culling was necessary to protect flora and fauna from negative impacts of overgrazing.
Fiona Corke, a former Neighbours star who is president of the Australian Society for Kangaroos, said she was disappointed the cull would go ahead.
"We are disappointed that the cull will be proceeding but we are also encouraged by the fact that the tribunal has recognised that number of kangaroos should be and will be reduced,'' she said.
Ms Corke declined to comment on whether her group would join protest efforts to disrupt the cull.
The legal team representing the Society for Kangaroos was yet to examine the tribunal's decision and Ms Corke was unable to say whether the group would consider court action to try and stop the cull.
Protesters caught trespassing in closed reserves could be fined up to $5500 under the Nature Conservation Act