ADFA theatre honours Australia's first Indigenous officer, Reg Saunders
When Captain Reg Saunders, Australia's first Indigenous army officer, discovered a cold and hungry baby in an abandoned Korean village more than 60 years ago the veteran of the Middle East, Greece, Crete and the Pacific war was stumped.
"How were we going to feed a baby?" he told his eldest daughter, Glenda Humes, many years later.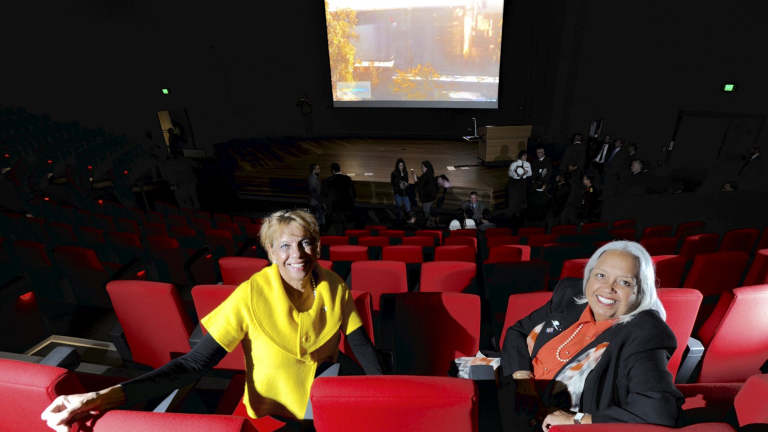 Captain Saunders, a legendary figure within the Australian Defence Force who had a new theatre at the Australian Defence Force Academy named in his honour on Wednesday, did what he had always done best.
He and his men scrounged through their packs, eventually coming up with a range of unlikely items that almost certainly saved the child's life.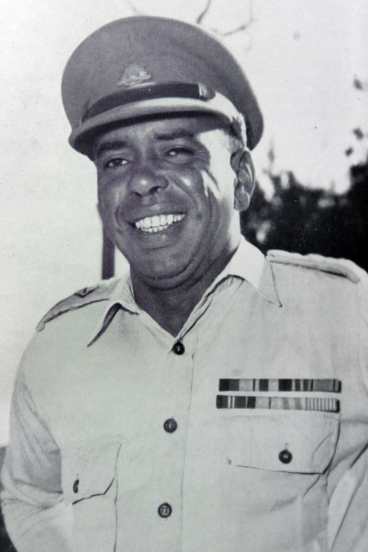 "Dad always held his own," Mrs Humes said. "He was well known in Korea for always being able to find food and supplies for his men.
"But mum always said Korea was [also] the war that changed him. By then he was married with children of his own. He identified with what the Korean families, including this poor little bundle of rags who had been left for someone to look after, were suffering."
Mrs Humes and her younger sister, Dorothy Burton, who were born in 1947 and 1949 respectively, were among 15 of Captain Saunders' descendants who turned out for the opening.
The theatre is an 800-seat facility within a new auditorium that has been created as part of a $98.5 million ADFA redevelopment. Other works included an indoor sports centre, cadets' mess kitchen and the refurbishment of teaching facilities and accommodation.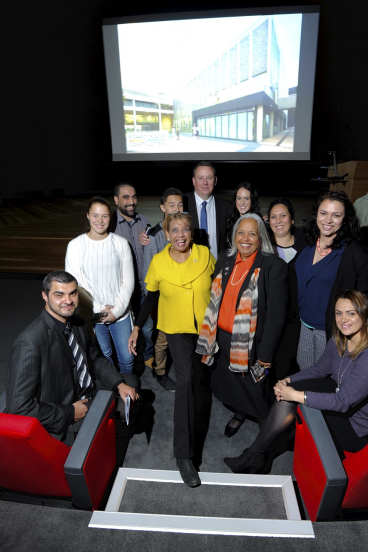 The multi-purpose auditorium, which can seat up to 1200 people, has been named in honour of Rear Admiral Brian Adams, a former commandant of ADFA. Other facilities have been named in honour of the academy's founder, Air Chief Marshal Sir Neville McNamara, and Sister Alice Ross-King, a WWI army nurse.
Mrs Burton, who travelled from Townsville with Mrs Humes, said while naming the theatre was a wonderful gesture Captain Saunders' greatest monument was his family.
Jamara​ and Jaleah​ Saunders, the youngest of his descendants to attend Wednesday's opening, live in Canberra and go to Melrose High in Mawson.
"We have known about him [their great grandfather] all our lives," Jaleah said. "When they started talking about him at school when I was in Year 5 we learnt our family history was also a part of Australian history."
Jamara said the Anzac centenary had made the siblings even more aware of what Captain Saunders had achieved.
"A man came to our school from the war memorial and spoke about Reg; that made it very special."
Reginald Walter Saunders was born in Victoria in 1920. He died just under 70 years later in the Canberra Hospital.
His father, Chris, had served with the AIF during WWI and when WWII broke out the then 19-year-old enlisted on April 24, 1940.
He was assigned to the 2/7th Battalion and fought in North Africa, Greece and Crete. While on Crete he took part in the bayonet charge during the Battle of 42nd Street which saw a combined Australian and New Zealand Maori force briefly check the German advance.
When the last Allied ships left and the rear guard was surrendering, Captain Saunders and two of his mates went underground. Disguised as Cretans, they were able to escape 11 months later thanks to local people who risked their lives to help.
Mrs Humes said his time on Crete was the turning point in her father's life.
"If he had surrendered he would have spent the rest of the war in captivity," she said. "He would never have been made an officer and we [the daughters] would not even be here."
David Ellery is a reporter for The Canberra Times.