Adolf Hitler cabaret act defended by Fringe Festival creative director Jorian Gardner
The director of the Fringe Festival Hitler-themed strip show, labelled anti-Semitic and offensive by the Canberra Liberals, has hit back at the ''ridiculous'' criticism.
Fringe Festival creative director Jorian Gardner has released photos of the performance, which took place on Friday night and featured a female burlesque dancer dressed as Hitler with gold wings, dancing to the song Gangnam Style.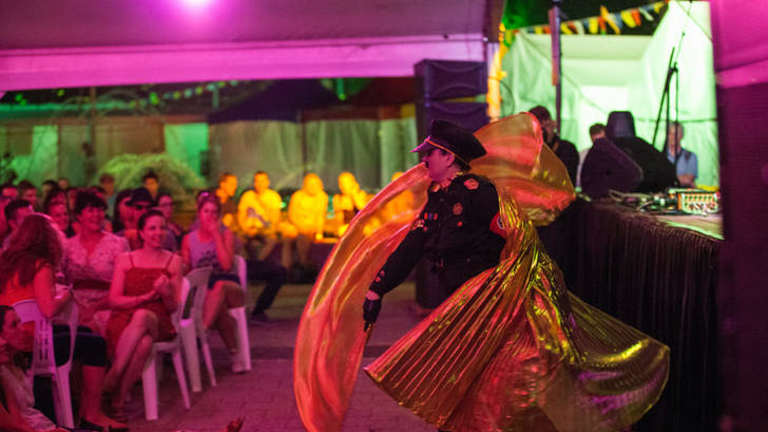 The act made headlines on Sunday after ACT opposition spokeswoman for multicultural affairs Giulia Jones complained it was offensive.
''It is totally unacceptable [that] an anti-Semitic performance was held anywhere, let alone at the site of the National Multicultural Festival,'' she said. She said the act was offensive and Minister for Multicultural Affairs Joy Burch had serious questions to answer. But Mr Gardner said he had not received one complaint about the performance from the audience or from the ACT Jewish community.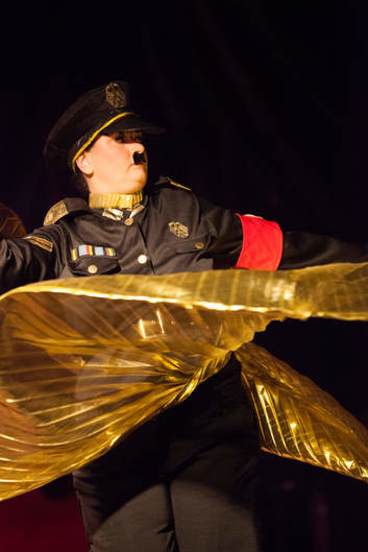 ''I have not had anyone from the Jewish community call me. In fact, I had the interfaith forum today and not one leader of the Jewish community talked to me,'' he said.
Although he conceded that the act was slightly controversial, Mr Gardner said the event took place at the Fringe Festival, which was all about pushing boundaries.
He said he had never expected it to be in the news.
''If you come to a burlesque night, and you come to one at a Fringe Festival, and then you get offended, well, I think you've read the situation completely wrong,'' he said.
Mr Gardner said he believed the Liberal Party should be focusing on more important issues, such as the ACT economy. But Mrs Jones said it was her job as the opposition's spokeswoman to make sure that nothing the government did damaged Canberra's multicultural society.
She said although she had not personally witnessed the event, she had received three complaints about the performance.
''I was down at the Multicultural Festival and I was approached by the president of the Harmonie German club, who was deeply offended by this going on,'' she said.
Ben Westcott is a reporter at The Canberra Times.