Air ambulance confident ACT still its home
Canberra's flying ambulance service says it is safe from proposals to downsize aeromedical services.
The ACT-based Snowy Hydro SouthCare helicopter is confident it will keep flying even if the NSW government reduces its fleet of medical helicopters from 15 to 12 as recommended in a new report.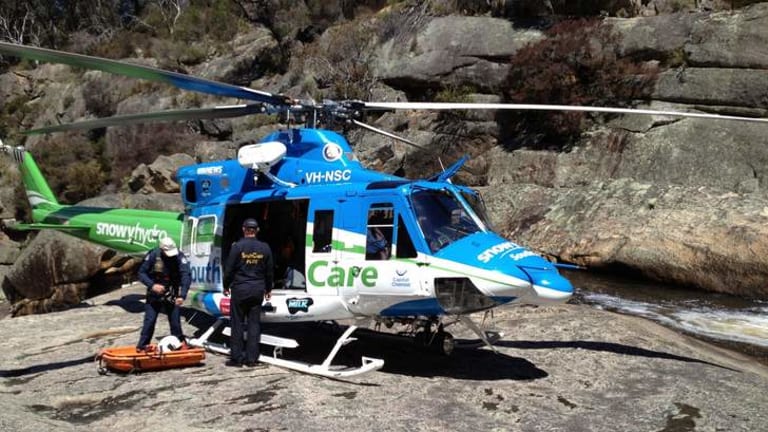 The Canberra helicopter could find itself flying all the missions for a new ''super region'' covering the southern half of the state, or lose its contract altogether. But SouthCare's chief executive said any changes made to the statewide service would be likely to have little effect locally.
Snowy Hydro SouthCare is a non-government service provider, one of several that fly under contract to the NSW government, but its medical crews are doctors from the Canberra Hospital and paramedics from the ACT Ambulance Service.
The ACT flyers carry out about two-thirds of the missions flown in the southern and Murrumbidgee health districts of NSW.
But under recommendations of the review to the NSW health ministry by accounting firm Ernst & Young, SouthCare may have to bid to service the entire south of the state.
But SouthCare chief executive Owen Finegan said he believed the service had cemented its place as the region's air ambulance and that a medical helicopter base in Canberra would remain vital to the region.
''We're part of a statewide network anyway, and it was only six weeks ago that we flew to Victoria,'' he said. ''The reports says it consolidates Sydney and Wollongong but they're still talking about having four bases, Sydney, Canberra, Newcastle and Lismore, so for us I don't read a lot into it.'' He said that SouthCare's staffing mix would remain attractive to the NSW aeromedical services network.
''A lot of the service I can't see changing because you're not going to get people to come in from NSW and be your paramedics,'' Mr Finegan said. ''Your paramedics are still going to be from Canberra and your doctors are going to be from Canberra.''
The report found reducing the number of state's medical helicopters was ''necessary to eliminate the unnecessary duplication, inconsistencies and inefficiencies which the current arrangements exhibit.'' It also predicted demand for the state's aeromedical services will increase by 23 per cent over the next 10 years, due to population growth and an ageing demographic with much of the growth concentrated in the southern NSW region.

Noel Towell is State Political Editor for The Age
Morning & Afternoon Newsletter
Delivered Mon–Fri.