Alister Spong was cleared on Monday of all charges over the death of his mate at Summernats last year.
Mr Spong, 33, faced an ACT Supreme Court trial accused of culpable driving causing the death of Luke Newsome, after he fell off the back of Mr Spong's 1942 flat bed truck and suffered fatal head injuries.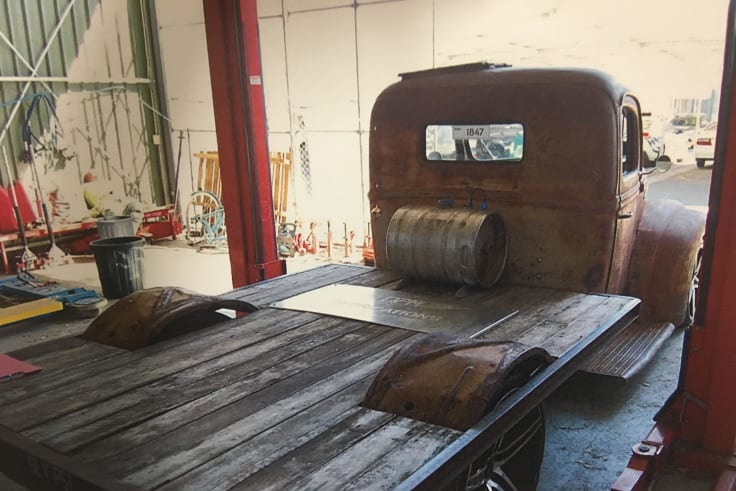 The Queensland man had admitted he drove negligently, but he denied the more serious allegation of culpable driving. That allegation said he failed unjustifiably and to a gross degree to observe the standard of care a reasonable person would in all the circumstances.
Although he had pleaded guilty to negligent driving, prosecutors declined to accept the plea and pressed ahead with the charge of culpable driving.
That meant the jury had to decide on both the charge of culpable driving causing death, and the statutory alternative of negligent driving.
On Monday, after beginning deliberations on Friday and returning briefly after the weekend, the jury said it had found Mr Spong not guilty of both charges.
Mr Spong wiped at his eyes on hearing the result while his wife, who has sat through the trial, started crying, and the two embraced as the court adjourned.
Mr Spong did not speak outside court, but his solicitor Jacob Robertson, of Sharman Robertson Solicitors, said the 33-year-old was "emotional, upset and relieved".
Mr Robertson also said Mr Spong had written a letter to Mr Newsome's family and parents, apologising for his death, which would be passed onto prosecutors.
Mr Newsome was the first person to die at the annual car festival in its 30-year history.
The trial heard Mr Spong was lapping the Summernats cruise route on January 5, 2017, with five friends on the tray, when he attempted to spin his 1942 Ford Jailbar truck's back wheels, a move he called a "chirpie" and one he said he had done many times before.
But Mr Spong had failed to take into account the weight of his five passengers. Instead of losing traction the wheels bit into the road and the truck lurched forward, sending two friends off the back.
While one was able to stand up and brush himself off, Mr Newsome, 30, suffered fatal head injuries and died the next day in hospital.
The court heard Mr Spong was devastated by Mr Newsome death.
Mr Spong gave evidence in his own trial, and said he had not driven the truck, into which he had invested some $40,000, since the accident.
After the verdicts, Justice Chrissa Loukas-Karlsson formally discharged the jury and thanked the members for their service to the community.
She also formally discharged Mr Spong.
Alexandra Back is a reporter with The Canberra Times
Morning & Afternoon Newsletter
Delivered Mon–Fri.