All change: ACTION overhauled delayed as planners start again
The ACT government is overhauling its new plan for buses after passengers complained the proposal cut too many stops.
Draft maps, published last year, tried to straighten out the ACTION network to shorten travel times and increase frequency of services.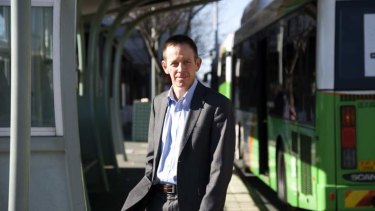 But feedback from more than 2000 people showed planners had gone too far in their efforts to build a faster system and had removed crucial stops for vulnerable Canberrans, particularly elderly passengers.
Planners are reinstating several routes, pushing the introduction of the new network back to the middle of this year.
The plan was originally slated for implementation in early 2014.
The refined network is still expected to add about an extra 300 bus runs per day to corridors across the ACT and reduce travel times.
Territory and Municipal Services Minister Shane Rattenbury said dozens of changes were being made to the draft to restore some connections that had been lost.
That included bus services from Lyneham to the Dickson shops and services that covered areas between Fawkner Street in Braddon and the Canberra Centre.
''A whole lot of older people from the northern areas of Lyneham came forward and said, 'That is our key run to get to the [Dickson] shops and now we can't, except via Civic,''' Mr Rattenbury said. ''One of the key things here is to straighten out some of the routes so that the buses don't meander so much.
''But in a few places we had a large number of people come back and say, actually, that cuts out a critical service for us.''
Bus services to the Parliamentary Triangle will still increase before the introduction of paid parking.
The government is also scrapping some Xpresso services from the network, however fewer than were proposed in the draft.
Late night services will also be cut in some areas. ''Some of the particular late night services literally averaged one or even no passengers,'' Mr Rattenbury said.
''We had a large number of services where the average number of passengers over a six-month period was between zero and four.
''We've taken a strategic decision to remove those services and give the greater capacity during the day when there is a higher level of demand and greater uptake of the service.''
He said there would still be late night bus connections to town centres.
The new network will most likely be introduced during school holidays in the middle of the year.
Mr Rattenbury said there would not be any fare changes.