All This Living! by Camilla Blunden tracks an older woman's quest
Theatre Alanna Maclean
All This Living!. Written and performed by Camilla Blunden. Directed by Rochelle Whyte. The Street Theatre, May 20-31. Tickets 62471223 or thestreet.org.au.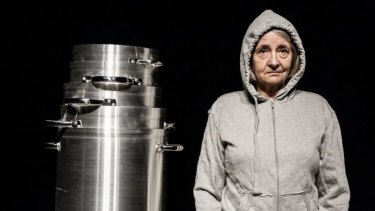 When poet and playwright Dylan Thomas died and his wife Caitlin Thomas became a widow she wrote an autobiography wonderfully entitled Leftover Life to Kill. Caryl Churchill's 1976 play Vinegar Tom contains the chilling lyrics, "I met an old old woman/Who made my blood run cold. /You don't stop wanting sex, she said, /Just because you're old." Now performer and creator Camilla Blunden takes on the matter of "the invisible, shrinking older woman" in Jay, a woman who has reached that time of her life and is on a quest for some answers.
Jay may be questioning the invisibility she feels and observes. It's a sexual invisibility but it's also the kind that has you overlooked when waiting to be served in a shop or passed over when you make a comment. It's an invisibility that shows up in media representations. Where are the roles for older female as opposed to older male characters in film and stage? What are the stereotypes?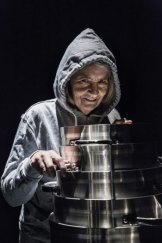 Blunden is a veteran of much locally developed theatre, perhaps most notably in All This Living!'s context with Women on a Shoestring, but this is the first time where she's been the sole writer. She says creativity is a driving force.
"You can't stop creating because you get to a certain age."
She has always worked across gender and age and culture so the drive to research for emotional, cultural and historical accuracy is strong.
She says she has reached a "certain age" and has things she would like to say about this.
To develop her character Jay, she talked to women in Canberra in their 50s to their 80s. These women were volunteering, joining classes and causes. She was reminded of differences in the way various cultures value age.
She had conversations with women in Canberra Dance Theatre's Growing Old Disgracefully (GOLD) group, who are all over 55 but dance, despite assumptions that only young dancers can be seen as conventionally and aesthetically acceptable.
But creation does not stop with menopause.
The results were rich and some of those who contributed may recognise their stories. There may also be some use of parallels between Jay's search for answers and the women of myth and legend (the name "Jay" simply "came out of the air").
The show, that will open later this month, has been in development through The Street Theatre's The Hive project since 2012, and has also received project funding from Arts ACT. The Street has an ongoing commitment to investment in developing local professional theatre and The Hive script and performance development programme is a powerful part of this.
This means that All This Living! has had what should not be the luxury of a decent and thorough development process, including sessions with the incisive and insightful dramaturg Peter Matheson. Watching him work on script development is a lesson on play making. He does not shy away from the need to be critically analytical, but is powerfully supportive of a playwright's right to their own voice. He provides the necessary outside view of a piece as it grows.
Blunden wanted and got a young director of rich experience in Rochelle Whyte, who is also a member of The Hive group. It also augurs well for the look and sound of the show that designer Imogen Keen and sound designer Kimmo Vennonen​ are on the creative team.
All This Living! needs, however, to be able to tour. It needs to reach out to a variety of audiences, from late high school onwards. It will have a fortnight in the sophisticated theatre environment of The Street 2 and then hopefully go on tour, much as Canberra performer Chrissie Shaw's Bijou is doing in northern NSW with a portable Pozible-funded cabaret-based evocation of an older woman's life in early 20th-century Paris. There are plenty of stories around about older women. The problem is getting them acknowledged and out there.
The production is being designed to take advantage of The Street's facilities, but will also be able to shed sophistications of lighting and design and use only Vennonen's soundscape, sound being much more portable these days. It needs a certain-sized room, a community sized space to play in, says Blunden. Old halls and gyms and schools of art, however, may very well give the play an interestingly different ambience, especially since Jay is a kind of "everywoman", liable to be found anywhere.
Jay's short odyssey will have the audience in and out of The Street Theatre 2 space in just under an hour. The play promises humour, insight and a chance to talk about the taboo tangle of age and gender and sexuality and death; it's a show for everyone.