Almost $7 million compensation to Marist Brothers students sexually abused by Brother Kostka
The Marist Brothers have paid out $6.84 million in compensation to 38 former students who were sexually abused by John William Chute, who is also known as Brother Kostka.
Counsel assisting the Royal Commission into Institutional Responses to Child Sexual Abuse, Simeon Beckett, said payments averaged $178,000 but those made through Towards Hearing were substantially less.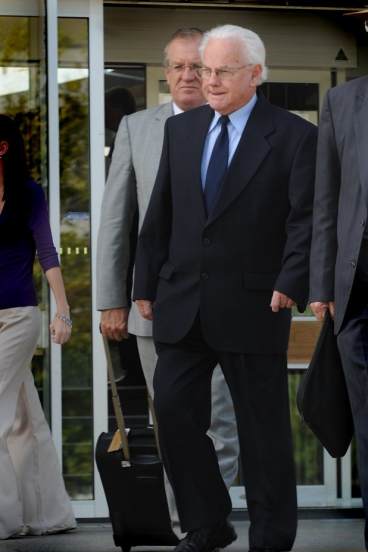 Chute is now living in the community in NSW.
The royal commission heard on Tuesday that allegations of sexual abuse were made against him as early as 1960 and that he had admitted to "inappropriate touching" while at Marcellin College in Randwick.
Chute was transferred to St Anne's Primary School at Bondi and was again the subject of allegations of sexual abuse in 1961 and 1962.
When a boy complained, the superior of the community, Brother Des Phillips, met the boy's father. Chute again admitted to "inappropriate touching".
"The royal commission is likely to hear that the primary response was that Brother Chute agreed to see Father Cox for spiritual advice. He left the school at the end of 1962 and began work at the Marist Primary School in Queanbeyan in 1963, before being transferred to Villa Maria at Hunters Hill for 1964, 1965 and 1966."
He was appointed principal of St Josephs School, Lismore in 1967.
He admitted following a complaint to sexually abusing a student at the school and the then provincial of Marist Brothers, Othmar Weldon, considered it a "good idea" to move Chute to another school.
His case was considered by the provincial council of the order in 1969 and the minutes record: "It was thought advisable to give Brother Chute a canonical warning."
Mr Beckett said that on "the same day Brother Chute was transferred to teach primary school and be the principal at Marist College Penshurst, NSW".
He was again accused of sexual abuse and, once again, admitted what he had done.
Leaving Penshurst in late 1972, Chute taught at Marcellin Junior College in Coogee and Marist Brothers School in Paramatta, before leaving for his second novitiate in Switzerland in 1975.
The hearing is to explore the possibility that Chute had been sent to the Marist Brothers centre in Fribourg because of concerns over his chronic history of sexually abusing children.
He was transferred to Marist College, Canberra in 1976, and this is where the bulk of his offending occurred over the next 17 years.
It has been alleged that he abused 39 students in this time and that the offences were fairly similar in nature.
"Most involve Brother Chute reaching into a boy's underpants and touching the boy's penis," Mr Beckett said.
Numerous complaints were lodged over the years but no meaningful action was taken until September or October 1993, when a boy reported to the then principal, Christopher Wade, that Chute had indecently assaulted him.
The Marist Brother provincial, Brother Alexis Turton, flew to Canberra to investigate and Chute was allowed to continue teaching.
In late November, a second boy told school counsellor Janine Mahoney that Chute had indecently assaulted him.
Ms Mahoney took the matter directly to Brother Turton and Chute was withdrawn from the school, his last position as a teacher, as of January 1, 1994.
He was transferred to the Dundas Centre in Sydney and then, in 1997, to the Marist Farmhouse at Mittagong.
Chute was charged with 19 counts of child abuse in January 2008 and, after pleading guilty, was sentenced to six years' imprisonment with the third year to be spent in weekend detention and the last three years suspended.