An exhibition of wistful nostalgia exploring a personal past
Nostalgia. By Sophia Szilagyi. Beaver Galleries, 81 Denison Street, Deakin. Until August 12.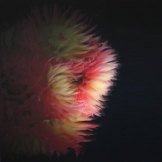 If Sophia Szilagyi's exhibition in this gallery in 2016 was a wildly romantic affair with earth, sea and sky, in this show it is a different sort of romanticism – a nostalgic yearning for the past remembered through a veil of memory and art historical associations.
Szilagyi is a Melbourne-trained printmaker, who employs digital technologies to adjust and splice her images together. They are printed onto rag paper, generally of quite modest dimensions (40 centimetres by 40 centimetres) in editions of about 10 copies. In this exhibition, she has framed her prints in large black frames that remind me of the so-called Dutch frames that were very popular in Victorian England.
The imagery of portraiture and still life compositions bring to my mind the Pre-Raphaelites with their dreamy aesthetics and revivalist preoccupations. There is a conceptual game in many of the pieces between the specificity implied in the titles of the prints, suggesting a specific sitter, and the somewhat abstracted space that these figures occupy. The viewer is invited to unravel the clues provided by the wide range of associative images drawn from centuries of art history from Vermeer, through Leonardo da Vinci, Botticelli and Millais.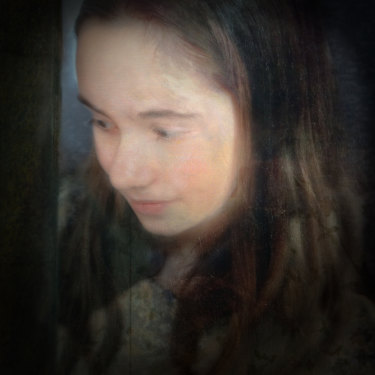 A print such as Maggie illustrates Szilagyi's general methodology. A pretty face is caught in three-quarter view with the gaze directed inwardly, rather than out of the composition. The background, which is somewhat mysterious and unspecific, frames the head creating a spatial tension. The soft focus implies a distancing device, as if something is seen through a glass darkly or through the lens of memory. This sense of disjunction in time and space robs the photographic image of its literalness and suggests a transfigured reality.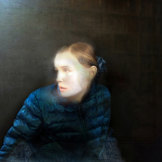 Similarly, in the print Yumi, the head of the young girl is abruptly and awkwardly placed onto a jacket and torso that suggests a different period in time. This tends to dematerialise the image so that it resembles more of a memory – a waking dream or a ghostly presence – rather than a corporeal existing person from a tangible reality.
The artist speaks of her desire to explore nostalgia and "a longing to be a child again, to do and see things as I did", in other words to capture a reality that no longer exists, but may have once existed. It is a curious feeling of melancholy, but one that is tinged with a fleeting pleasure. The Slavs call this feeling "toska", a word that the brilliant Vladimir Nabokov translated as "hyp'", which he qualified as the feeling of "hypochondria, but without the chondria".
In some ways, this is an exhibition of wistful nostalgia, brought upon by the artist as an exploration of a personal past.