Annabelle Pegrum's capital environment
Annabelle Pegrum's love of Canberra has not diminished, writes David Ellery.
The first homes Annabelle Pegrum can remember are the Nissen huts her post-World War II migrant parents lived in while they travelled around the country with work.
Her father, Wilibald Rodowicz, and her mother, Elisabeth, were from Hungary and Austria respectively and had come to Australia to begin life anew after the destruction of Europe.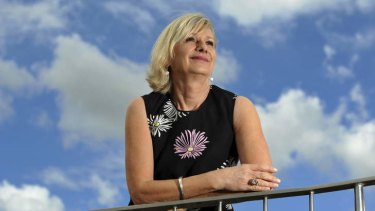 Wilibald found work with what was to become the NSW Electricity Commission and the family moved with him from job to job.
''Mum used to tell the story of how we travelled on a five-tonne truck to whatever temporary accommodation was supplied,'' Pegrum said. This was often a Nissen hut.
Dating back to World War I, the distinctive arched iron and timber buildings were popular because they could be erected quickly, used relatively little material and were strong for their size. Despite these virtues, and the family association, Pegrum can't recall ever designing a building with a barrel vault.
Her first memories of a ''permanent'' home date back to when she was seven and the family arrived in Sydney. They were soon ensconced in a modest house with what would now be considered million-dollar views on top of a 100-metre-high cliff looking towards the Sydney Heads.
''You couldn't help but be aware of the natural environment,'' she said. ''We could watch the start of the Sydney to Hobart [yacht race].''
A Canberra resident for the past 33 years, and a major player in the way the city has developed, thanks to a 10-year stint at the helm of the National Capital Authority between 1998 and 2008, Pegrum says Canberra's timbered hills are the local equivalent of Sydney Harbour. The big difference is that unlike Sydney, where a view of the major natural attraction is restricted to the well-heeled few, Canberrans are never more than a few steps away from a stunning landscape vista.
Having studied architecture in the 1970s and cut her teeth on Ayn Rand's The Fountainhead and the subsequent film starring Gary Cooper, Pegrum has always thought of architecture as a social science. She believes it is a discipline that is far more than the sum of its parts, in that any design brief is about much more than just economy and ease of construction.
Pegrum was taught, has taught and still teaches, that the concept of ''fit for purpose'' must take account of the way people will interact with a building or development, how it fits in with the surrounding natural and built environment and the way public and private built spaces can shape the way individuals and groups live, work and learn.
This holistic approach has been instrumental in forging a career that has seen her move from creating structures and buildings to setting the parameters for the development of precincts, suburbs and what is arguably Australia's most innovative and dynamic urban experiment.
Growing up in a household that didn't clip her wings because she was a girl hasn't hurt either.
''I never grew up thinking girls were restricted in what they could do,'' Pegrum said. ''My mother was a very independent woman, she was very strong. She did not think there was anything untoward or unusual about studying architecture.''
Established role models were in short supply, however. ''Personally I didn't have anybody who had worked in my specific fields of interest. When I first started studying architecture I wasn't sure why I had chosen it - my eldest sister had dated and then married one - and it [architecture] was a hard slog. It was sheer willpower and doggedness that got me through that first year. I was asking myself 'what have you done?'''
That changed as, over time, her view of the subject began to take in the human as well as the technical and by the beginning of second year her interest had blossomed into a love affair with architecture that continues unabated to this day.
There was more to life than university, however, and having been born in 1952, Pegrum lived out her youth to the soundtrack of some of the best music ever recorded.
''The first band I really remember is the Stones,'' she said. ''One of our neighbours had a lot of their music on 45s. Then there were the Animals, Led Zeppelin, the Monkees and Abba. My older sister went to see the Beatles when they came to Sydney. I desperately wanted to go but wasn't allowed to because I was considered too young.''
Pegrum would have been 12 at the time. It was one of the relatively few occasions when the precocious youngest child of five was not granted her wish.
''Because I came last I got away with a lot of things my brothers and sisters didn't. There is only four years difference between myself and my next sibling, but that was almost a generation's difference when it came to expectations.''
Canberra, in retrospect, was a happy accident. Pegrum moved to Hughes from Sydney in the days when that suburb deserved its unofficial title of ''nappy valley''.
''I had been teaching at Sydney University,'' she said. ''I was offered a job by Canberra College of Advanced Education after our second child was born.
''I just loved Canberra from the very first; the big skies and open spaces captured me. I have always cherished the countryside. The social fabric was very different to Sydney. We had so many people with young children at Woden; they were so welcoming and friendly. People at the baby health centres always took an interest. It was a happy time.''
As the children grew, so did Pegrum's interest in developing a career that went beyond the immediate confines of architecture. An extended apprenticeship through public sector and policy roles gave her the breadth of knowledge she needed on being appointed head of the National Capital Authority.
''That has been the best period in my working life so far,'' she said. ''It was an exciting time; we had the Centenary of Federation, the republican debate and other issues that reflected identity and symbolism.
''Projects such as Commonwealth Place, Reconciliation Place and the opportunities involved in supporting and integrating federal institutions including the Portrait Gallery and the National Museum into the territory in a complementary fashion proved very rewarding.''
While conceding the modern architectural forms Canberra showcases as effectively as any city in the world are not universally acclaimed, Pegrum firmly believes buildings such as the High Court, the National Library, the National Gallery and others will stand the test of time.
The longevity of these buildings will be derived from the quality of their workmanship as well as the intelligence of their designs.
Her favourite Canberra building, the Australian War Memorial, dates to the 1940s and encapsulates the simplicity and elegance that has become a hallmark of many other major structures. Pegrum said the design was up to the standard of any city in the world and has a use of space and an evocation of scale that sets it apart.
''The High Court is another great building,'' she said.
''The bush hammering on the court and on the National Gallery are examples of great craftsmanship. It was a very labour-intensive process and it will be a long time, if ever, [before] we see anything like that again.
''The construction of these buildings drew on the skills of Croatians, Swedes, Finns and others from all over the world.''
This marriage of craftsmanship and top-flight design lives on in the Portrait Gallery and the memorials along Anzac Parade.
''We are definitely a national capital and that is reflected in the quality of design and workmanship on our public buildings,'' Pegrum said. ''And the things that I found so seductive about Canberra in the 1980s; the sense of community, the gardens and the space are what people still value.''