Answers to balloon blowing in the wind
The artist behind the controversial Skywhale has defended her work, saying criticisms are more a reflection of its detractors than of the $300,000 creation.
Speaking to Fairfax following the unveiling of the 10-breasted, 23-metre high hot-air balloon, former Canberran Patricia Piccinini said the work was designed to be challenging, but not sexualised.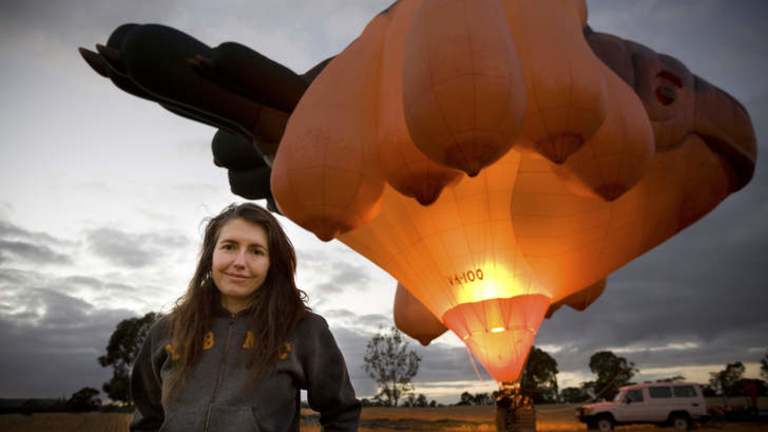 ''If it's turned into something base or vulgar, it's got nothing to do with the work - it's got everything to do with the viewer and what they bring to it,'' she said.
''I can't control that and if people want to relate to works on that level, it's not something I can change.''
Piccinini also defended the balloon's relation to the capital, stating that while it was ''not actually a work to celebrate Canberra'', the piece and the city were both artificial creations depicting something natural.
''Canberra is an artificial planned city that's been blended into a natural environment,'' she said.
''It's subtle, but it's there so anyone who spends time with the work will arrive at that. It wouldn't have been interesting if I just made the capital territory shape and put that in the air.''
Piccinini said Canberrans would come to appreciate the work once they had experienced it in person, and that even the most dismissive people would come to realise it was worth the cost.
''It's an aeronautical machine. People's lives depend on it. It has to function properly and that's what it costs, to make a balloon.''
Centenary of Canberra creative director Robyn Archer, who first approached Piccinini about the project more than 2½ years ago, also defended the cost of the artwork.
Ms Archer spoke on the piece's price and its relation to Canberra's centenary, saying the ''connection couldn't be plainer''.
''We've been inviting lots and lots of ex-Canberrans to bring back their stuff,'' she said. ''The connection with the centenary is 'look at how many amazing people Canberra has produced over these years'.''