It's not easy being green. Just ask vice-chancellor Ian Young, who has been condemned in business and political circles for the Australian National University's decision to liquidate its investment holdings in seven resource and mining companies. The firms were found not to conform to the provisions of the university's socially responsible investment policy, which aims to "avoid investment opportunities considered to be likely to cause substantial social injury, and positively promote investment in securities, companies, trusts, and other entities that support socially beneficial outcomes".
Ideologically driven investment policies like this have been much in vogue in recent years, particularly among wealthy universities like the ANU. That's often as not because student activists have lobbied successfully for university endowment fund administrators to stigmatise profit-taking from the production and release of greenhouse gases by selling down their shareholdings in fossil fuel companies. Large institutional investors have also lent their weight to the push to get companies to pay more attention to social and corporate governance issues, largely by trying to exert influence at annual general meetings through proxy votes.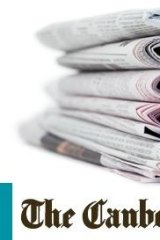 The ANU's investment policy states the institution's "fiduciary responsibility to maximise returns under its control". It notes, too, the difficulty of assessing to what extent a large and diverse company may be involved in either socially harmful or beneficial activities. But it has nothing to say on how corporations assessed as social laggard might be prodded into changing their habits, other than, presumably, by prescriptively shunning their shares.
Inconveniently for Professor Young, some of the companies blacklisted by the ANU have disputed their alleged social waywardness. Iluka Resources and Santos have pointed to awards received for environmental rehabilitation and indigenous employment, while Sirius Resources says its engagement with Aboriginal people in WA has been well received by indigenous leaders. South Australia premier Jay Weatherill has hailed Santos and Iluka as "excellent corporate citizens".
If the reaction from corporate Australia to the sale of a $16-million parcel of shares verged on hysterical, it's probably because of a recognition that investment decisions are increasingly being viewed through the prism of social benefits. Only last month, the heirs to the Standard oil fortune, the Rockefellers, announced their intention to divest their investment fund of shares in fossil fuel companies.
There is a view, much debated, that direct engagement through proxy voting is much more likely to bring about change and improvement than straight-out divestment. Others, however, cite the difficulty, costs and risks involved as reasons not to respond to calls for divestment. The ANU cannot be blamed for preferring divestment to engagement, since it is not primarily a fund manager, but it has an obligation to ensure the liquidation of contentious assets is done in such a way as not to adversely impact on the value of those publicly owned assets.
Payouts point to transparency issues
ACTEW's 2013-14 annual report has revealed that Mark Sullivan, who resigned in February after six years as the utility's managing director, received a $690,000 golden handshake. ACTEW also extended golden handshakes to four other members of Mr Sullivan's executive team, with termination payments of up to $419,000 plus long-service leave.
Voluntary payments made to an employee on retirement or termination of employment are commonly extended to private and public-sector executives. And while the payment to Mr Sullivan may seem disconcertingly large, it is probably not out of the ordinary given his annual salary, length of service, conduct, performance and age. However, the other payments have raised eyebrows.
The departure of a chief executive from a large business or department often triggers the voluntary exodus of his or her executive team, though quite why individuals who worked at one of Australia's smaller water utilities would merit such large payouts is not immediately obvious.
ACTEW's willingness to amply compensate its executives, and the under-reporting of Mr Sullivan's package in the 2011-12 annual report, has been the subject of some concern, particularly in senior government circles. These latest figures may well induce further squeamishness, but they underline yet again the government's obligation to ensure ACTEW upholds the highest standards of integrity and transparency.