ANU researcher discovers hundreds of lost paintings at Angkor Wat
A rock-art researcher at the Australian National University has unearthed hundreds of hidden wall paintings that have adorned the walls of Angkor Wat for more than 500 years.
The unprecedented discovery has shed light on a largely unknown period in the ancient temple's history and could give historians an insight into daily life in Cambodia in the 16th century.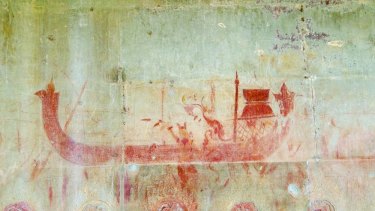 Noel Hidalgo Tan first noticed faint, coloured pigments on the interior walls of the Cambodian temple during an excavation trip in 2010.
''My background is in rock-art research, so I'm very used to looking at rock surfaces and seeing whether there are very faint traces of pigment under the surface,'' Mr Tan said.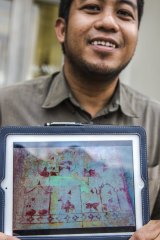 ''I just kept looking at the walls and kept seeing these faint traces of red and black pigments and no one else was noticing them.
''So I just took some pictures and thought I'd look at them later.''
It wasn't until months down the track, when the Canberran began to digitally enhance the photographs, that the intricate paintings emerged.
Images of boats, animals, deities, musical instruments and buildings which had been rendered in remarkable detail, came to life before his eyes.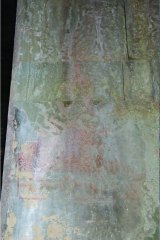 ''It was just amazing,'' Mr Tan said.
''All the time I was thinking 'surely someone's seen it, it's Angkor Wat'.''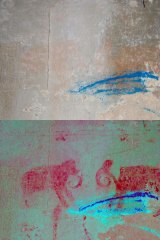 However, despite the fact thousands of visitors pass by the walls where the paintings were discovered each day, no one had noticed them before.
''In real life, you can't see anything, the chambers are so dark.
''It's a case of right place, right time.''
Mr Tan returned to the World Heritage-listed site in 2012 and worked with Cambodian researchers to catalogue the walls of the temple in full for the first time.
Their research was published in the latest edition of the British journal Antiquity and has already gained worldwide attention.
About half of the 200 paintings the team documented were invisible to the naked eye.
Mr Tan, a PhD student who specialises in south-east Asian rock art, said the discovery was significant because the paintings appeared to be from a period when the temple was thought to have been uninhabited.
He suggested the paintings were completed during the reign of King Ang, who transformed the site from a Hindu temple to a Buddhist place of worship.
''The paintings represent a new layer of information that we get of daily Cambodian life,'' Mr Tan said.
Angkor Wat was built in the 12th century in the city of Angkor, which was then the capital of the Khmer empire.
The monument attracts almost two 2 million visitors each year.