ANU scientists to measure 'footquakes' during Viking clap at Canberra Raiders game
We all know the Raiders Viking clap is powerful, now we will have scientific proof.
Scientists from the ANU Research School of Earth Sciences will be attending the Raiders vs Panthers game to measure the seismic activity caused by the Viking clap and crowd celebrations.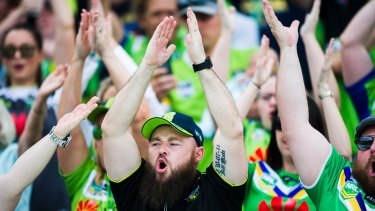 They have installed a seismometer under the main stand of GIO Stadium, a professional grade piece of equipment normally used to measure earthquakes.
Professor Malcolm Sambridge said the project was inspired by the discovery of "footquakes" in Cameroon when seismic activity was detected in various locations all over the country. It turned out to be people celebrating goals by the national football team.
"We're hoping to measure the crowd making seismic noise by stamping on the ground when the Raiders score and also during the Viking clap," Professor Sambridge said.
"As far as we know there's never been a rugby league footquake recorded. We hope to record the biggest in the world [today]."
The Viking clap at Canberra Stadium at the start of the round 2 game between the Raiders and the Cronulla Sharks
NRL Round 24: Canberra Raiders v Penrith Panthers at Canberra Stadium, Sunday, 2pm. Tickets available from Ticketek.
Elliot Williams is a reporter for The Canberra Times