Aranda Primary parents furious library out of action due to capacity boost
Aranda Primary parents are furious the school's library and community room have been taken out of action to serve instead as classrooms in a bid to squeeze in more students.
The popular school's capacity was increased from 550 to 625 and the rooms reclassified at the start of first term in an arrangement the Education Directorate has previously described as "not uncommon".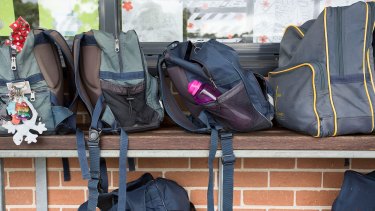 "The Education Directorate is working with the school on a number of options to accommodate students. These include additional learning spaces as well as changes to the Priority Enrolment Area catchment," a spokeswoman said this week.
The Aranda Parents and Citizens Association has written a letter to the directorate and Education Minister Yvette Berry outlining its outrage at the sudden boost in enrolments.
"In recent times, our school community has regularly discussed and planned for increased enrolments," president Petra Cole said.
"The new capacity number of 625 meant that the Education Directorate assured our community that Aranda Primary did not have space issues and that the school was not operating over capacity. This is ridiculous.
"If there are no space issues at Aranda Primary then why does the school not have full access to the library and community room?"
The group outlined the difficulties faced by the year 3 students who were learning in the library and its annoyance at no longer being able to access the community room for its meetings.
A request for reassurance that the school's music room would not be converted into a classroom was not addressed by the directorate.
"The directorate has been working with the school to address the longer term needs," the spokeswoman said.
Ms Cole said upgrades at Aranda Primary, under consideration for 2018-19, must be brought forward.
"Depriving schools of their libraries, community and possibly music rooms should not be the ACT government's solutions to rising enrolments," she wrote.
"The simple fact is that all children need full access to a school library."
Former Education Minister Shane Rattenbury changed the definition of school capacity mid-2016 and included spaces traditionally quarantined for special education and non-mainstream classes in future projections.
The change, described by the ACT Council of Parents and Citizens Associations as "cynical", allowed for up to hundreds of new spots in schools without adding any new infrastructure.
The 2017 capacity figures have not yet been released.
Emily Baker is a reporter for the Sunday Canberra Times. She previously reported on education for The Canberra Times.