Arboretum declared open at dawn ceremony
The smell of smoke wafting from near the visitor centre high on a hill overlooking Canberra was oddly appropriate for the beginning of a new era in Canberra's history - the opening of the National Arboretum.
More than 500 people, including dignitaries, Friends of the Arboretum and Canberra school children have had their early morning start justly rewarded with a stunning sunrise over the capital, providing a beautiful backdrop to the official opening ceremony of the 10-year, 42,000 hectare, $70 million venture.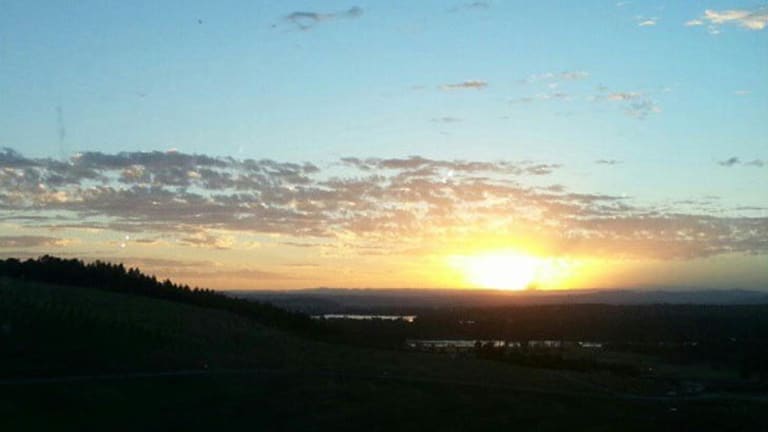 Visitors were met with a traditional smoking ceremony at the Village Centre to cleanse the land - an ironic, but apt welcome to a project that was essentially born from fire back in 2001 and 2003.
Chief Minister Katy Gallagher, Senator Kate Lundy and Regional Affairs Minister Simon Crean were all present to officiate the sprawling new park's opening, but it was former chief minister and Arboretum founding father Jon Stanhope who received the biggest applause.
Mr Stanhope took three flights from his new Christmas Island home to arrive in Canberra on Thursday night, and was greeted by congratulations all round on Friday morning.
"I love this project. I've loved it from day one," Mr Stanhope told Fairfax. "It's really great the people of Canberra can now treat this as their own, which it is."
But while Mr Stanhope said he was looking forward to taking another look around - he hadn't visited in about eight weeks - he was quick to point out that the Arboretum is still a growing project.
"There's still work to be done," Mr Stanhope said. "It's another day in the life of the project."
Ms Gallagher was quick to praise the hard work put into the Arboretum over the past 10 years, and paid tribute to Mr Stanhope's perserverence.
"Without him it wouldn't have happened," Ms Gallagher said. "It would have been very easy to shelve that idea, and now look at what we've got."
Ms Gallagher said the perfect sunrise complemented what was already a special event.
"This is just what we ordered, a clear, crisp morning, while the sun came up," she said.
"It was a little bit emotional actually, I think just because I've been on the journey the whole time. It's had a controversial history, the Arboretum, and it took a lot of fighting and a lot of defending of the concept to get it to this point, and it's just lovely to get it here and to be here."
After the official opening, staged mainly to complete formalities and acknowledge the work of those involved, the Arboretum will open to the public with a special community open day on Saturday from 10am until 3pm, and will then be open seven days a week, every day of the year.
Ms Gallagher said Saturday's open day, which will include live music, workshops and activities, had been well-planned, but warned Canberrans against driving to the event.
"I hope to have lots of people who haven't been up here come here tomorrow and see what a magical place it's growing into," Ms Gallagher said.
Getting to the event
Please note, there will be no parking available on site except for holders of a disability parking permit, event staff and volunteers.
The best way to get to the opening festival is to catch a free Arboretum shuttle bus from one of six pick-up/drop-off locations. These are:
Bus stop at western entry to Canberra Stadium, corner of Battye and Masterman Streets, Bruce
City Bus Station, rear of Platform 3
Bus stop at the Waldorf Apartments, 221 London Circuit, Civic
Bus stop at the front of the Federal Treasury building, western side of Langton Crescent, Parkes
Stromlo Forest Park off Uriarra Road, Stromlo
Woden Bus Station, Platform 10.
Shuttle buses will operate at regular intervals from 9.30 am with the last service departing the Arboretum at 3.30 pm. All buses will be labelled'Arboretum Shuttle'.
For more details on the opening festival, including transport arrangements, visit www.nationalarboretum.act.gov.au or call Canberra Connect on 13 22 81.
Morning & Afternoon Newsletter
Delivered Mon–Fri.