Archer's broad Church is a symphony of centenary celebration
Centenary of Canberra creative director Robyn Archer says she could have blown the more than $30 million budget for the national capital's 100th birthday party on luring an international act such as the Rolling Stones but she wanted to stage a series of events that had a lasting legacy.
Ms Archer today launches the summer and autumn program of events for the centenary year, which includes everything from a massive birthday party based around Lake Burley Griffin on March 11 including performances by re-formed Canberra bands such as The Church, Falling Joys and The Gadflys, the debut of a specially commissioned centenary symphony, the longest champagne bars in the world and fireworks. Other highlights through the half-year include the Famous Spiegeltent in the Senate Rose Gardens at Old Parliament House, a commissioned hot air balloon by leading sculptor and former Canberran Patricia Piccinini and plenty of sport, including a day-night cricket international at Manuka Oval.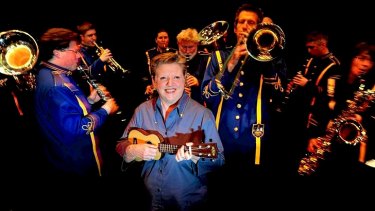 The winter and spring program of events will be released in March.
Ms Archer said she was conscious of using the $31.6 million centenary budget to put on events throughout the year that could have a lasting impact on the community.
She said she could have tried for an Olympics closing ceremony-style of extravaganza or even something like the Rolling Stones playing on a barge in the middle of Lake Burley Griffin but didn't believe they offered enough value for money. A year-long party could deliver more benefits, including the confidence that the national capital was a place where exciting things could and did happen. The general ''flurry of activity'' teamed with an emphasis on the local could also encourage a more positive perception of Canberra.
''There are always clear choices around events like this where there's a lot of money. You can do something boastful, huge, you can use all your contacts of which I have mountains, to be able to get the best artists or rock bands or whatever,'' she said.
''We could have done that and everyone would have had a great time and gone, 'Yahoo' but then I always wonder, 'What is left?' I think if you dig into this program you will see a whole lot of people on many, many different levels who are taking this as a real injection of faith and energy and they are saying, 'Ok, we're going to go from this and go to more things'.
''I also believe that legacy could be if you demonstrate that the city is capable of hosting something like this, that there could be decisions into the future about future infrastructure to be able to do more and more like this.''
The program also includes many events that are already staged in Canberra on an annual basis such as Summernats, the multicultural festival, balloon spectacular, Skyfire, heritage festival, Black Opal Stakes and the folk festival.
Ms Archer said the big birthday weekend from March 8 to 12 would be a focus of the celebrations.
''But also I'm really proud of the Australian Ballet piece by Garry Stewart. I'm really proud we got every state and territory into the theatre season. I'm actually extraordinarily proud of the sports line-up now,'' she said.
Ms Archer said she was looking forward to watching sporting events such as the Women's Australian Golf Open. ''And because I don't watch cricket that much I'll probably really enjoy that cricket match,'' she said.
Ms Archer was glad that the summer-autumn program would be online from today and ''we don't have to hold anything back now''.
''It's a little different to most festivals. At this point, I do the launch, the brochure would be out and I'd go, 'Phew' but we've got another half-year's program now to get together so literally the day I get back from the national and international rounds [of promotion], our heads have to go back straight back into this one that comes out in March,'' she said.
But, ultimately, the program was ''just a blueprint''.
''The actual centenary are the people who are going to deliver those programs, the sportspeople, the artists, the scientists, the school kids and the audiences,'' she said.
Coming to the Capital
Canberrans are going to have a very busy 2013, according to Centenary of Canberra creative director Robyn Archer, who reckons it will take some time for people to get their head around the program of events planned for the national capital's 100th birthday. While much of the program has been released, today's launch will reveal added events for next year's big centenary bash.
These include:
■ The Famous Spiegeltent will host a series of contemporary concerts, family shows, cabaret performances and parties in the Senate Rose Gardens at Old Parliament House from February 27 to March 24. The tent is run by former Canberrans David Bates and Michele d'Arbela, who both attended Canberra High School and met at the Canberra School of Music. There are only a handful of these evocative ''tents of mirrors'' left in the world today.
■ Leading sculptor and visual artist Patricia Piccinini, who is originally from Canberra, has been commissioned to design an artwork as a hot air balloon for the centenary. The balloon is expected to be an enduring presence throughout 2013. Ms Archer said she was keen to team an eminent visual artist with a ''popular and populist form of entertainment'' such as a hot air balloon and Piccinini was ''overjoyed'' to be involved.
■ The Big Birthday weekend from March 8 to 12 will be a focus of celebrations. The big birthday bash will be on March 11 at multiple sites on the northern and southern shores of Lake Burley Griffin. Ms Archer says the idea behind the day is to ensure it is not a passive event, that people are involved the whole way through. A specially commissioned centenary symphony will be performed by the Canberra Symphony Orchestra. The longest bubbly bar in the world, stretching out along the lake in both directions from Commonwealth Place will serve tapas and glasses of Centenary Bubbly to 800 people every 20 minutes.
■ Canberra design company Thylacine is working with the Centenary of Canberra to create giant frames that will form words at various locations around Lake Burley Griffin as part of the March long weekend centenary celebrations. At Kings Park, the word Country will be formed from materials such as cracked mud, red earth, coastal sands, woven branches or native grasses. Members of the community will help build the words on the day. There will be folk music, re-formed Canberra bands playing, such as The Church and The Falling Joys, gourmet food and wine and fireworks.