Art, Not Apart festival: Once a year, and it's a big day art
In the Nishi Gallery at NewActon, a glass-and-crystal hanging art installation is sparkling.
Outside in Kendall Lane, an impressive scaffolding structure looms over passers-by, ready for artists to create live work on it.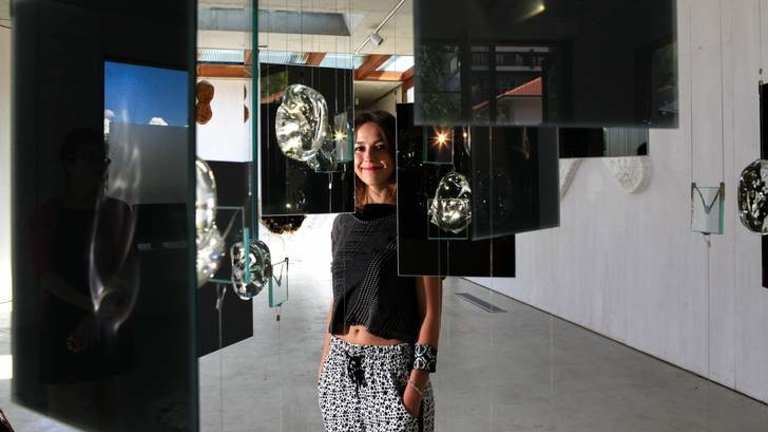 Art, Not Apart is ready for action.
The one-day arts festival that fills the laneways, lawns and courtyards of NewActon offers a particularly packed program this Saturday.
Curator Chloe Mandryk said up to 200 artists had applied to perform, create, display and sell their work at the festival.
She and organiser David Caffery then worked with the artists to come up with a program.
''We encouraged live work, interdisciplinary work and we also had funding so people could create new work and propose projects,'' she said.
''We were really happy to give people funding so they could realise an idea they'd been sitting on or they couldn't afford to do.
''So then we'd meet with the artists, or Dave would, and we'd refine ideas or blow them up [big].''
It's not just the artists who'll be creating things on the day, though.
''A lot of people we've encouraged to also take on the idea of doing workshops and showing people what they do.'' Those workshops include collages involving magnets, ''freestanding dog paintings'' and watercolour painting.
''We also have a performance art piece where the artist will be talking about isolation and loneliness and how we're kind of tethered to our digital devices.
''And he'll talk one on one with audience members and then take their phone - they'll sign a waiver - and put it in a parachute and drop it over an edge.
''So there are cutting-edge, sophisticated ideas as well,'' Mandryk said.
More than 5000 people packed into the NewActon precinct last year for Art, Not Apart .
This year there'll be more space for more people and artwork, with the festival extending into the Nishi building and Hotel Hotel.
One of the centrepieces is a big structure made of scaffolding and wood in Kendall Lane, which will be covered in visual art.
In the Nishi Gallery, which sits opposite Parlour, there'll be another exhibition curated by Mandryk, titled Terms and Conditions , featuring work from 11 cross-disciplinary artists.
And Kendall Lane Theatre will show documentaries created for last year's centenary, which have languished unseen until now.
Even the after-party, at the Nishi building from 6pm, will be a performance piece.
Art, Not Apart runs from 1pm-7pm on Saturday at the NewActon precinct in Civic. See artnotapart.com for more information.
Natasha Rudra is the life and entertainment editor at The Canberra Times