Asbestos in fence sparks safety fears in Chifley
A concrete fence containing asbestos has sparked safety concerns for residents in Chifley, who claim debris has still not been cleared away after the fence was demolished six days ago.
Last Thursday, a Chifley homeowner was slapped with a WorkSafe ACT improvement notice after incorrectly removing the fence the same day. WorkSafe ACT issued a "strong reminder" that only licensed asbestos assessors can remove the dangerous material.
But, almost a week on, neighbours reported asbestos fragments were still uncovered on the front yard of the property and fibres had been blowing up and down the street.
The fence, which has now been replaced with another, backed on to a public laneway. There is also concern asbestos fibres may have been blown across the road to the YMCA health and wellness centre.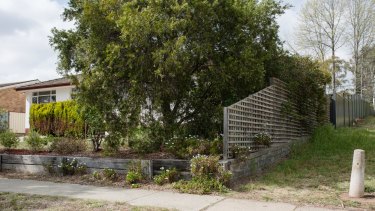 On Wednesday, small, white fragments could still be seen on the grass and the path near the house. Access Canberra confirmed the fence had since been disposed of properly as asbestos waste and inspectors had determined the risk in the area was "very low".
Neighbours said WorkSafe inspectors had been out to the house at least twice but said their "hands were tied" until a private asbestos assessor was called in.
"The fragments and fibres are still everywhere, it hasn't all been bagged up or wetted down, I think it's ridiculous that something hasn't been done," one resident said.
A YMCA staff member said they heard about the asbestos fibres in the air on Thursday and had contacted Access Canberra.
"We are concerned but we haven't heard anything back, we haven't been notified" she said on Wednesday.
"It was a hot, dry Thursday afternoon and they were smashing up asbestos in their front yard with hammers," a resident said of the fence removal. "It only takes one fibre to get you, that's what's so evil about it.
"Now it's warm and the wind's howling again!"
An Access Canberra spokeswoman confirmed another complaint was received about asbestos on the property, which is close to the Chifley shops, on Tuesday.
"Access Canberra is aware an asbestos assessor has been engaged by the home owner to rectify this issue," the spokeswoman said.
Once an improvement notice has been issued, it is the responsibility of the owner to arrange the removal and clean-up of asbestos through a licensed removalist, she said.
The assessor would then issue a clearance certificate and WorkSafe could finalise the investigation.
"WorkSafe have determined there is no risk to public health or safety," the spokeswoman said.
ACT Policing confirmed they attended the property on Saturday in response to a verbal dispute about the asbestos.
Sherryn Groch is a reporter for The Canberra Times, with a special interest in education and social affairs