Aspen Medical opens third trauma hospital in war-torn Iraq
A Canberra-based international medical firm has opened a new trauma hospital in southern Iraq, the third hospital it has set up in the war ravaged country.
The World Health Organisation commissioned Aspen Medical to urgently establish the 20-bed facility, only weeks after the Canberra company handed one of its facilities over to the Iraqi government.
It's staff - which are drawn from 21 different nation's - have been on the ground in northern Iraq as part of a humanitarian relief effort to assist civilians caught up in the fight against the Islamic State.
Aspen Medical co-founder Glenn Keys said he could not reveal the location of the new hospital, due to security concerns, but he confirmed it was in the country's south.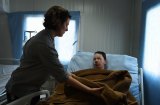 "Hospitals go where the WHO see's the greatest need. Where the fighting is and where the greatest care and compassion can be delivered," Mr Keys said.
Mr Keys said the company's mission to Iraq had recently treated its 10,000th patient and had helped deliver more than 1200 babies.
Mr Keys said staff, who work in tough conditions, were called upon to treat a range of injuries, from gunshot wounds to shrapnel damage to burns.
He said the youngest patient treated for trauma had been just two months old, and the oldest aged 94.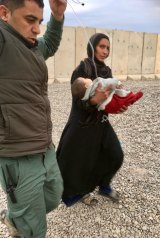 Mr Keys said 30 per cent of all cases were children aged under 15.
"You hear the term collateral damage used in such an antiseptic way, yet this is what's happening," he said.
"There's a war going on and the people are really suffering, not only the damage and dislocation from their homes, but also to their lives, families and themselves."
Mr Keys said Aspen's job had been to coordinate and commission the new facility, which involved getting it set up and running, put in place the policies and procedures, and work with the Iraqis to make sure it suits them culturally.
He admitted it presented logistical challenges, including security and supply issues.
"This is what Aspen has done since day one. Whether it's the Solomons or Indigenous communities or in Africa fighting Ebola, we've brought almost 15 years' worth of experience and history to bear on what we're now delivering in Iraq.
"We've distilled all of those lessons, all of that experience, logistics and understanding to be able to provide that care in Iraq now.
"We've adapted and developed and nuanced all the procedures to be suitable for culture and language and environment."
Aspen Medical recently handed a hospital over – with 48 beds and 20 maternity beds - to the Iraqi government, and a second facility, of the same size, in Mosul, would also be transferred in the near future.
Mr Keys said it was "pretty powerful" to be part of the worldwide response to the humanitarian crisis.
"To know that, not only are we delivery absolutely urgent care, but we were helping reconstruct the health backbone of a nation.
"There's a few things that unite people and help them get on. They are water, power, health, and education.
"We are one of those four pillars. We are providing it today but also helping set up that backbone to enable it to be delivered in a sustainable fashion going forward.
"We knew when we handed it over and walked away from this facility, that it would still be running today, tomorrow, and next year."
Michael Inman is a courts reporter for The Canberra Times