Assembly passes motion condemning Seselja for 'betrayal'
ACT Labor and Greens MLAs have used their numbers in the Legislative Assembly to pass a motion condemning former opposition leader Zed Seselja for ''betraying'' the voters of Lanyon Valley.
The move came after a motion from Mr Seselja calling for more recreation facilities for Lanyon backfired in the Assembly chamber on Wednesday.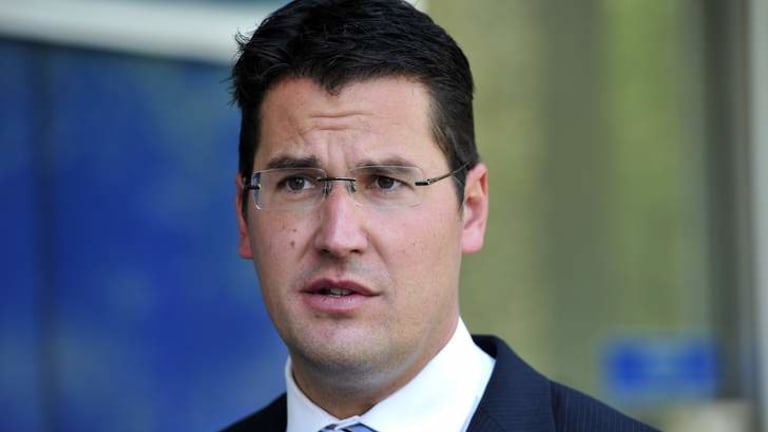 Education and Training Minister Joy Burch moved an amendment stating that Mr Seselja's move into federal politics represented ''a betrayal of the trust placed in him by the voters of Lanyon Valley''.
The opposition attacked Ms Burch, a member for Brindabella, for a ''grubby'' and ''politically motivated'' amendment.
Mr Seselja is under growing pressure from the government to quit the Legislative Assembly after winning the Canberra Liberals' nomination for the Senate.
The former opposition leader was heckled by government MLAs in the chamber on Wednesday as he accused ACT Labor of having ''walked away'' from the people of Tuggeranong.
Chief Minister Katy Gallagher asked the Senate candidate who was ''walking away now'' from Canberra's southern suburbs.
And Ms Burch said Mr Seselja's motion, which stated the government had failed, for 10years, to provide for the Lanyon community, showed ''hypocrisy''.
''I am a little bit surprised that Mr Seselja should bring this motion in today given, one, that he's seeking to get away from the people of Lanyon as quickly as he can, given that he's only really just discovered them,'' she said.
''I am surprised that he would draw attention to his hypocrisy and draw attention to the trail of broken promises to the people of Brindabella that paved his election result and draw attention to his betrayal of his former friend and mentor Gary Humphries.''
Ms Burch attacked Mr Seselja for switching from Molonglo to the Brindabella electorate for last year's election and claiming in his campaign material that ''everything I do will be about local solutions, local services, local answers and local commitment''.
''We know that there should have been a small print in there to say that this contract will be torn up as soon as it suits me,'' Ms Burch said.
''Mr Seselja neglected to mention that he would stick around for as long as it took him to find something better.''
But Mr Seselja said Tuggeranong voters had turned their back on ACT Labor after years of neglect and would do so again.
''This is the problem with the Labor Party,'' he said. ''They somehow think that that result was all about Zed, or all about one individual factor – it was not.
''It was a rejection of what the Labor Party and the Greens have stood for for years.
''It's the culmination of the people of Tuggeranong saying enough's enough.
''If you think that somehow you're going to be able to get them back just because I might not be on the ticket at the next election, you've got another thing coming.''
Morning & Afternoon Newsletter
Delivered Mon–Fri.