A former Australian navy commander caught up in a massive bribery and corruption scandal that enveloped the US Navy's top brass told a court on Friday he did not speak up because he feared retribution.
Alexander Bryan Gillett said the corruption cultivated by the man known as "Fat Leonard" was all pervasive and he did not know who to turn to, either knowing or fearing that even the officers in his senior command were in the crooked tycoon's illegal network.
Fat Leonard, real name Leonard Francis, would lavish the US Navy commanders on board the USS Blue Ridge with extravagant parties in Asia's most expensive five-star hotels, in exchange for sensitive information about the US 7th Fleet's movements.
The tugboat owner and president of Glenn Defence Marine Asia, a Singapore-based defence contractor, spent years developing sources on the Blue Ridge for classified information.
He was the centre of what would become a massive corruption and bribery scandal that engulfed the US Navy's 7th Fleet.
The ship was the flagship of the 7th Fleet, the US Navy's biggest forward-deployed fleet. At any given time, according to the fleet's website, it was home to 50-­70 ships and submarines, 140 aircraft, and 20,000 sailors.
Now nearly a decade since he accepted gifts from the defence contractor in exchange for leaked shipping schedules, Gillett could face jail time when he is sentenced for his part in the massive scandal.
The Canberra man, 40, has pleaded guilty to one count of abusing public office, and faced a sentence hearing in the ACT Supreme Court on Friday. The charge carries a maximum penalty of five years' jail.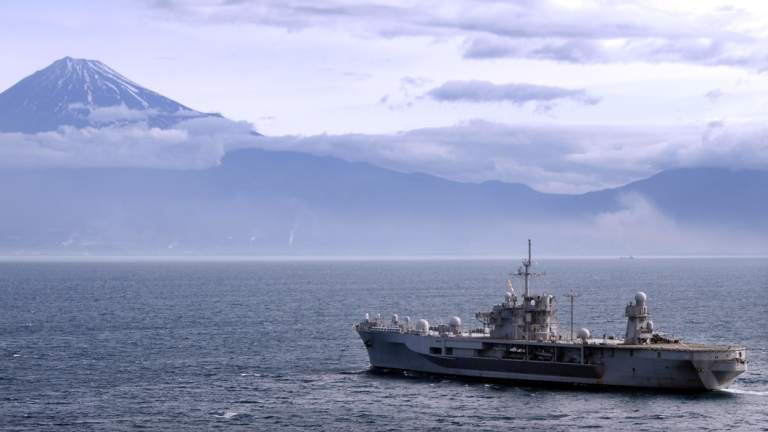 Gillett was posted to the fleet and the Blue Ridge in 2008 as the Australian Navy's liaison officer, documents tendered in the ACT Supreme Court say.
He was soon drawn into Francis' orbit.
The documents say that within the first eight months of his posting Gillett became aware of a US Navy officer, Lieutenant Commander Steven Shedd, leaking Francis sensitive information, such as shipping schedules.
Francis would use the schedules to make competitive tenders for the fleet's lucrative port services contracts.
When Shedd left the fleet he recruited Gillett to take over the role, the documents say, telling him the US Navy would benefit from Francis' cheaper port service prices.
Using the email address dingo11@cooltoad.com to get around a US Navy firewall that blocked services like Gmail and Hotmail, Gillett leaked Francis sensitive information about the fleet's movements.
He sent, for example, a PowerPoint file with maps of South East Asia and information about ship movements, as well as schedules of port visits.
In trade, Francis lavished his corrupt network of officers with boozy parties and prostitutes, although Gillett has denied taking part in sex services provided by Francis.
In November 2008, Gillett was invited to the "Liberty Party of Five", an extravagant soiree of five Naval officers held at the Kowloon hotel in Hong Kong in an event that racked up tens of thousands on Francis' AMEX.
And in February 2009, Gillett was invited to the Makati Shangri-La in the Philippines, one of several visits to the Philippines he made on Francis' credit card.
Emails showed Francis organising widescreen televisions, karaoke, alcohol, and late checkouts at the Shangri-La hotel at a cost of tens of thousands.
Gillett told the ACT Supreme Court at his sentencing on Friday that at the time he believed Francis needed the information to provide port services.
He understood Francis to be the fleet's only provider of the services, and told the court the contractor would have received the shipping information anyway.
Asked by his barrister James Lawton why he did not report the corruption Gillett said he was scared, both for his career and retribution.
At Francis' parties he would see high-ranking Naval officers mingling with the wealthy contractor.
He said the corruption was all pervasive, and there was no way of knowing who was in his illegal network. Francis was a wealthy operator with contacts across South East Asia.
He said his guilt eventually caught up to him and he stopped sending emails months before anyone was caught.
He told the court he knew he had done the wrong thing.
Gillett, who graduated from the Australian Defence Force Academy in 1998, went on to have a successful career in the Australian Navy on his return from the Blue Ridge posting.
But on November 1, 2016, after receiving a call from the Australian Federal Police, Gillett met with an officer and confessed to everything.
The Navy later pulled sponsorship of his top secret security clearance, and Gillett resigned, his last day in uniform was January 22, 2017.
He has since found work in Canberra for a private company.
Former Chief of Navy, Vice Admiral Ray Griggs, said in a reference, parts of which were read to court, that as an experienced military officer he found it hard to fathom the extent of the Fat Leonard case.
He accepted Gillett was put in a difficult position, but that he would have expected the officer to somehow show the necessary moral courage.
Gillett said it was hard to hear such frank language from a man he respected.
Justice Chrissa Loukas-Karlsson adjourned the case on Friday for Gillett to be assessed for an Intensive Corrections Order, which could see him serve any sentence of imprisonment in the community.
The court heard the US Justice Department had filed indictments on hundreds of officers and two admirals.
Francis has pleaded guilty to bribery and defrauding the military of $US35 million, the Washington Post reports.
Gillett's case will return to court on December 14.
Alexandra Back is a reporter with The Canberra Times