Baroness will bring worksite safety message to the territory
Baroness Rita Donaghy from the House of Lords will travel to Canberra in June to present the keynote address to a forum on work safety - warning political commitment to safety can mean the difference between life and death for construction workers.
Baroness Donaghy chaired a landmark inquiry in 2009 into the unacceptably high death rate of 86 construction workers in Britain in 2007 and said Australia shared many similar patterns in construction safety lapses with Britain.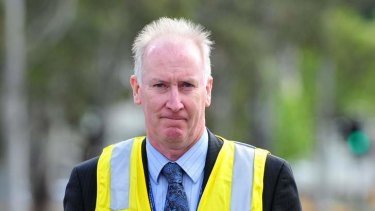 Her report, One Death Is Too Many, made several recommendations which have been similarly recommended in the ACT's independent inquiry into deaths in construction, Getting Home Safely - including tougher court sanctions against companies that breach safety laws, and making government procurement a model for safe work practices.
But speaking from London, Baroness Donaghy said the change of government shortly after her report was handed down has meant many of her recommendations have been turned back. She believed the rate of death and serious accidents in Britain was only being kept down by the recession and its effect on slowing down the construction industry.
''The real danger will come when the UK economy starts to pick up and a whole lot of inexperienced or undertrained workers go on site. The death rate [is likely to] pick up substantially then,'' she said.
She said that the Health and Safety Executive - similar to the ACT's Work Safety Commission - had been cut back despite her calls for additional resources.
She also noted the Conservative Cameron government was attempting to roll back legal safeguards for workers so that the families of injured or killed workers had to prove a breach of statutory duty before they could sue for compensation.
''To say things have deteriorated is an understatement. So it may sound political, but a government which listens is enormously important,'' Baroness Donaghy said.
ACT Work Safety commissioner Mark McCabe says the type of cultural change being called for in Britain and Australia ''requires sustained commitment over a number of years to achieve. Changes of government can sometimes derail such initiatives.'' He noted the election of the Baillieu Liberal government in Victoria derailed Australia's harmonisation process for tough new fines and jail penalties for work safety breaches when Victoria refused to come on board at the 11th hour despite new laws being generally agreed to be 95 per cent based on Victoria's existing laws.
Mr McCabe said the work safety conference would highlight new sanctions, which allow a company to be fined up to $3 million for a serious safety breach, and a negligent company director to be fined up to $600,000 or sent to jail for five years.
A legal team would conduct a mock court hearing, taking conference participants through how the legal ramifications might play out should a company and its directors be charged with breaches of the Work Health and Safety Act after a workplace tragedy. Mr McCabe noted that at least two of the four construction deaths in the ACT in the 12 months before the inquiry was called would be subject to the new penalties when they made it to court.
The government last month accepted all 28 recommendations of the recent ACT inquiry, including implementing an ACT industrial magistrate and boosting Work Safety inspectors by 12.
The conference, ''Building Safety: Bridging the Gap'', will build on the findings of the inquiry.
''It is important that we see this report, and the recommendations, as a starting point and not an end point,'' Mr McCabe said. ''This conference will be build on the findings from the report and promote discussion regarding how to achieve the agreed goal of a significant improvement in the local safety record.''