Big and bright in 2013
They're young, local and making waves. Julieanne Strachan and Ron Cerabona go in search of some of Canberra's finest new creative talent
Canberra's centenary year has dawned and the capital's arts schedule is crammed with exciting events and attractions but, to ensure you don't miss a thing, we have compiled a shortlist of talents to watch in 2013. Canberra is home to many talented artists – far too many to mention here – but with the help of The Street Theatre director Caroline Stacey, entertainment guru Coralie Wood and head of the Gallery of Australian Design Magdalene Keaney, we have identified some people who are tipped for big things in the future. The group represents a diverse field, from opera singer Jessica Westcott, to dancer Zane Campbell to jeweller Paul Krix.
Some of the group had a big year in 2012, with important roles in productions and Campbell is waiting to see whether he will receive a Canberra Area Theatre Award later this month for his efforts last year. Stacey says Westcott really stood out for her role in the production of a comic opera by Benjamin Britten staged in 2012. ''Jessica is a wonderful talent, I worked with her on Albert Herring,'' Stacey says.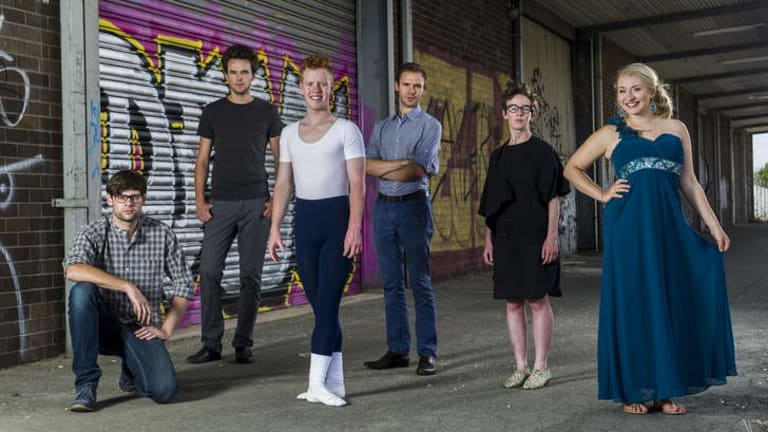 ''She is one of these unique singers who has the dramatic performance skills and can take on a part and create a character. Her exquisite singing voice will develop as she matures.''
Theatre artist Cathy Petocz is expected to spend this year developing a play which will likely be staged at The Street Theatre in 2014. It is being developed in The Hive writers program at The Street Theatre.
''Cathy is an all-rounder really,'' Stacey says.
''She is a creative artist – somebody who writes and develops work herself as well as being a songwriter and performer.''
CATHY PETOCZ
Canberra-born Cathy Petocz, 26, is a playwright, animateur, performer, and musician who began writing her own shows while a student at Narrabundah College.
A ''self-made'' pianist and singer, she won Triple J Unearthed Flesh It Out Singer/Songwriter Competition in 2007 but she decided to focus on theatre.
She worked with Canberra Youth Theatre's Ensemble and joined the National Science and Technology Centre in 2007 as an Excited Particle science show performer.
''I'm not scientifically minded but I love science and think it is a really important part of life, obviously.''
In 2009 she developed a piece of science theatre as part of the Japanese Australia Science Performers Exchange and the same year her self-produced work The Booth work was produced at the Crack Theatre Festival - This Is Not Art, in Newcastle.
She's worked with Boho Interactive and will perform a new work with them this year and Music for Everyone, for whom she composed Dinosaurs. And these are only some of her achievements.
Petocz has a busy 2013 ahead. She's a resident of the Street Theatre's Hive Writing Program and her play, currently titled Two Plays - in which two plays happen simultaneously - was featured in last year's First Scene new work festival and is still being developed.
She's working on a theatre installation work, The Near and How with designer Imogen Keen, which will be shown at the You Are Here festival and an interactive installation theatre piece, Territory.
She is enrolled in a Bachelor of Arts degree at ANU and has recently created a Judy Blume-themed band called Are You There God? It's Me, Margaret, to perform a one-night-only set at the You Are Here festival.
''I'm really excited to be a part of the artistic community in Canberra,'' she says, and she wants to create work ''of global interest.''
PAUL KRIX
Paul Krix's eye-catching necklaces and broaches are unlike those created by most other jewellers. For starters they are often flat, reflecting his background in digital design. Krix creates his pieces, which extend to earrings and braclets, with a self-written computer program. His mediums range from bamboo and plywood to acrylic, felt and paper. The patterns he creates are often based on nature, with inspiration coming from crystal growth, moth wings and leaf veins. Krix, who was born and raised in Canberra, sketches his ideas first to visualise them and then begins programming.
The physical designs are often laser cut, sprayed with lacquer, then fixed with their respective fittings to create one off or limited edition broaches, necklaces and bracelets.
The complex techniques have been something of a natural evolution stemming from his studies at university.
''I have always been interested in art I did a lot of digital art before I did jewellery,'' he says.
''I considered going to art school but I did a programming degree instead at the ANU.
''I graduated from that about four years ago and I had a lot of art friends who were interested in design as well and I started a small collective designing web stuff for artists. The name of the collective was COCOCO.''
Krix has since created his own company, which has an online presence at www.paulkrix.com.
''I progressed from digital art into jewellery,'' he says.
''I would describe myself a jeweller and I still do art and print stuff on the side. I am finishing my masters in digital design with the University of Canberra at the moment.''
DAN LORRIMER AND MITCHELL BROOKS
When Dan Lorrimer and Mitchell Brooks met in the playground during their primary school years, there could have been little sign that they would go on to forge a friendship that would lead to an award winning design partnership and future business venture.
In fact, neither of them can remember exactly when it happened, but their best guess is that it was roughly grade three. Years after learning primary school curriculum together, Brooks and Lorrimer teamed up successfully to enter the Centenary of Canberra - A Legacy of Good Design competition. The pair entered a shallow dish that used the same reference points and axis lines that were used to design Canberra. It was selected as one of the five winning designs of the competition and Brooks and Lorrimer were given $10,000 to manufacture the work so it could be rolled out as an official souvenir of the centenary.
But it could easily have gone another way.
Brooks and Lorrimer went to separate high schools and Brooks seriously considered pursuing a future in pharmacy and leaving art aside.
"I did a lot of science at college'', Brooks said.
''I thought that may be the way to go but I did best at design.
"For me design is about problem solving. I think design sometimes fixes the world's problems better than other disciplines can. It's often about fixing or changing products that seem to not function as well as they should. A lot of design is about invention, in which case it is about finding a problem first and coming up with the solution for it.''
Lorrimer ended up joining Brooks again for college after high school but the friends again parted ways for university.
Brooks attended the University of Canberra to study industrial design and Lorrimer went to the ANU to study sculpture.
Shortly after winning the legacy of good design competition Mitchell and Brooks, both 25, decided to start their own business.
It saw the birth of ''Makeout Design'', which is based at ANCA studios in Mitchell.
In spite of the name, it's not all about making furniture for people to get frisky on.
"It's making things and putting them out there,'' Dan explained.
The business not only makes original homewares and furniture, but designers Lorrimer and Brooks have made several of the machines that are used to make the functional art pieces.
"A lot of the processes are not that common,'' Lorrimer says.
"So you can't buy standard things and it's not easy to get people to make them for you.''
The result has been a range of specially made jigs and a plasma profile cutter designed for the job.
"You make tools to suit your needs so you can make your pieces to a high standard,'' Lorrimer says.
ZANE CAMPBELL
Zane Campbell says, ''Dancing is my passion, I love to dance ... It looks so elegant but it's so hard. Dance is a way you can express yourself that words can't.''
The 17-year-old was born in Sydney but has lived in Canberra since he was two. He began studying dance in 2003 at Eden Dance Academy when his younger sister did, taking jazz, tap and ballet.
''I just wanted to keep fit,'' he says.
''My sister did it and I wanted to be with her.''
And it was no passing fancy: indeed, his enjoyment only deepened over time.
''I can't stop, I love it.''
And although he's enjoyed dancing in such Canberra musical theatre productions as Fame, 42nd Street and Singin' in the Rain, ballet is what he wants to pursue as a career. Two years ago he began studying at Lisa Clark Dance Centre because of its specialisation in ballet and the fact some of its students have gone on to work for the Australian Ballet and the English National Ballet. He's toured with troupes from the centre that have won awards in eistedfodds. Last year he was in a dance program in Sydney run by the state Department of Education.
He says Canberra was ''a brilliant place for me to study - quiet, convenient, with ballet teachers you wouldn't want to pass up''.
But now, in Year 12 at Karrabah High School, he's looking to the future and the world beyond the capital.
His dream is to be accepted into the West Australian Academy of Performing Arts at the end of the year.
JESSICA WESTCOTT
Jessica Westcott says, ''Australia is a wonderful place for young singers to bloom.''
And she's very happy she started her adult career training at the ANU School of Music with Alan Hicks as her coach and Louise Page as her teacher.
''The three years there were the best decision I could've made.''
Westcott, 20, moved to Canberra from Parkes to undertake a Bachelor of Music and an arts degree in languages but has put the latter on hold in order to go to Sydney to do her honours year at the Sydney Conservatorium.
She says the Westcotts were ''a von Trapp type family'' - they were all musical and sometimes sang as a group. Westcott performed in musical theatre - her favourite role was Gertrude McFuzz in Seussical the Musical - but found classical singing more satisfying and more suitable for her coloratura soprano voice.
As well as studying in Canberra she has been ''flat out'' with performing opportunities, including concerts at embassies, solos in the Opera at the House concerts at University House and a lead role in Albert Herring at the Street Theatre last year. She was a Wesley Scholar in 2010 and 2011 and last year received a grant from the Friends of Opera to visit and study at music education institutions in London as well as becoming the first Australian to be accepted to the intensive Tyrolean Opera Program in Innsbruck, Austria.
Although she will look overseas for postgraduate study and early career opportunities - it seems to be a necessity - she won't leave forever.
''My ultimate goal is to sing in Australia. It's a pity Australian singers go off and never return ... I'll always want to."
Morning & Afternoon Newsletter
Delivered Mon–Fri.