Canberrans could be forgiven for feeling on edge at the sight of dozens of Nomads bikies – in full regalia – riding through Canberra's streets and taking group snaps at the capital's landmarks last weekend.
While the visit appears to have been incident-free, for many it would have called to mind the violence of an internal gang brawl between Comanchero members at a Fyshwick strip club last year.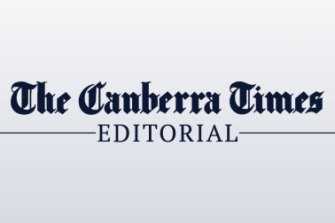 Or brought on the fear of yet another shooting or arson attack, such as those plaguing the southside since Canberra's tradition of being a one-club town splintered into four resident, warring gangs.
The government and police should be applauded for their work to introduce laws to crackdown on gang members, and to bring a number of significant prosecutions before the courts.
However, the authorities have not yet quashed the perception – whether actual or otherwise – that bikies can act with impunity in the ACT.
The police – who are currently searching for a new police chief – remained tight lipped about the Nomads visit, declining to comment on any operations or charges targeting Canberra's unwanted guests.
Convicted killer and Nomads life member Mouhammed "Moudi" Tajjour felt comfortable enough to advertise last week's visit, posting an image to his Instagram account of dozens of patched bikies posing arm-in-arm on Mount Ainslie.
A video of Nomads members smiling and laughing at a Canberra cafe was also posted to the same social media account.
Strict anti-consorting laws in NSW, Victoria and Queensland mean the capital has become the destination of choice to host outlaw motorcycle gang national runs in recent years.
Tajjour's pictures caught interstate attention and drew the wry observation from police that there is no way the bikies would get away with riding around or taking group happy snaps in other jurisdictions.
In response, the Canberra Liberals continued the numerous calls for the ACT to follow suit in order to target bikies in the territory.
However, the ACT government has repeatedly ruled out introducing anti-consorting laws over concerns the measures could be incompatible with human rights legislation.
Worryingly, the Nomads visited at a time of flux for ACT Policing, after Chief Police Officer Justine Saunders announced her resignation in order to take up a job as a deputy commissioner support for the Australian Border Force.
Assistant Commissioner Saunders will start the new job in late October, meaning the federal police have only two months to identify and appoint a successor.
Australian Federal Police Commissioner Andrew Colvin has confirmed the hunt for a new leader is underway, however, the timeframe for appointment is unknown.
During her tenure, the outgoing chief had sought to crack down on the criminal activities of outlaw motorcycle gangs through the formation of Taskforce Nemesis.
While Nemesis has had some success, ACT Policing's new top cop will inherit a work in progress in tackling the territory's bikie activity .
Reassuring a nervous populous that their home is not becoming a safe haven for criminals will need to be one of the first priorities of our new incoming chief police officer.