Blinging and serious singing
Strangely puritanical Julia Gillard is able, for the moment, to stop gay and lesbian people marrying each other, but she's powerless (how it must frustrate her!) to stop them from singing in choirs.
On December 8 and 9 and whether the Prime Minister approves or not, the Canberra Gay and Lesbian Qwire is presenting its Heaven and Hell Concert at the Australian Centre for Christianity and Culture in Barton.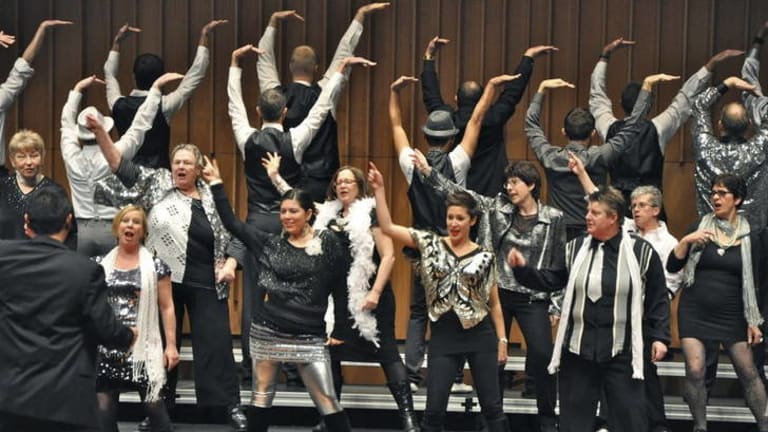 What's more the Qwire, suddenly old enough to be celebrating its 20th anniversary next year, our centenary year, will be blissfully busy during the centenary celebrations. It will, for example, grace the Symphony Stage (in front of Old Parliament House) on our birthday year's Biggest Day, March 11.
Meanwhile, we can be sure not only that the painstakingly rehearsed Qwire will sound terrific at the two looming December concerts but that they'll be quite a spectacle to behold, too. Spokeschorister Mikey Pettit explains to us that there will be ''lots of glam and glitter'' and every chorister will be sporting the choir's livery of ''black and white and silver bling''.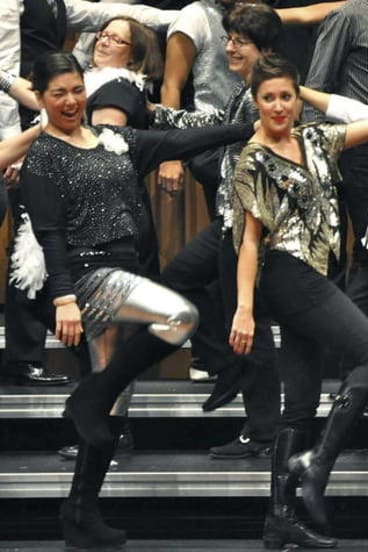 It's not a true uniform, he stresses, of the kind that more formal, more auditioned choirs wear. Instead, each warbler (and there are 70 of them) shimmers along dressed in whatever forms of black and white and silver they fancy, making everything excitingly, blingingly ad hoc.
Further spectacle will be supplied, he advises, when, as part of the Hell repertoire of the heavenly and hellish concerts, the Pistol Annies' lubricious hit Hell On Heels (meaning high heels) will see ''some of the choir, males and females, wearing high heels''.
Hell On Heels is just the right kind of ditty for a Heaven and Hell Concert because Pistol Annies' lyrics tell of a high-heeled brazen hussy who has done a deal with the devil.
He made me pretty
He made me smart
I'm gonna break me a million hearts
I'm hell on heels
Sugar daddy, I'm coming for you.
But to dwell on this lubricious side of things (forgive me, it's just that I am of sugar daddy age and find the thought of the Pistol Annie coming to get me rather thrilling) is to distort what's being offered at the December concerts. There will be music of all moods, including, for the first time ever in the Qwire's almost 20-year history some classical music pieces. One of them, Morten Lauridsen's setting of O Magnum Mysterium, is as ethereal as anything your ears will ever twitch to.
Perhaps there are still some musty corners of Australia (for example between the ears of, say, Julia Gillard and Cardinal Pell) where the notion of a gay and lesbian Qwire still causes some angst. But meanwhile, Pettit reports, ''certainly within Canberra everyone is accepting and tolerant'' and so it comes to pass that the Qwire is commonly invited to perform even at school and church fetes. They have performed (though without offering the congregation a rendition of the Pistol Annies' aforementioned classic) inside Saint John's hallowed and lovely old Anglican church in Reid. Next week, on Friday, December 7, on the eve of the two weekend concerts being discussed, the Qwire will perform at the venerable Albert Hall for the MAMAs, the MusicACT Music Awards.
The Albert Hall is relatively capacious but one reason for mentioning the Heaven And Hell Concert a trifle early is that the venue at the Australian Centre for Christianity and Culture, in Barton, only has room for 200 souls (and we use the word souls advisedly in this heaven And hell context) so that souls may need to get a ticket-buying wriggle on.
Performances are at 7.30pm on Saturday, December 8, and then at 2pm (matinee) on Sunday, December 9. Tickets are at www.trybooking.com/BYBQ
Morning & Afternoon Newsletter
Delivered Mon–Fri.