Brindabella Airlines put into receivership - flights suspended
Brindabella Airlines' 140 employees, including 70 in Canberra, have been temporarily stood down after the company was put into receivership.
at Brindabella Airlines' offices on Monday morning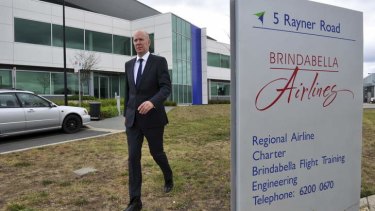 Receiver Sebastian Hans said the reaction from staff had been "a mix of high emotion and sadness" but that this suspension would be a matter of days, not weeks.
"It's a very unfortunate set of circumstances," he said.
Employees will not be given payments while stood down and there are not enough assets to give employees their full entitlements if the company is liquidated.
Mr Hams said there had been employee briefings in Canberra, Sydney, Newcastle and Brisbane and he believed the matter could be resolved by Christmas.
All flights are suspended indefinitely, as the airline struggles with millions of dollars in debt.
Have you been affected by Brindabella Airlines being put into receivership? Let us know: online@canberratimes.com.au.
Qantas chief executive Alan Joyce said the company would try to help Brindabella passengers.
He said customers in Mudgee and Cobar would be eligible to fly from Dubbo, those in Narrabri and Moree could fly from Armidale and/or Tamworth while Brisbane and Tamworth passengers could fly from Sydney.
"Access to air transport is extremely important to regional towns, especially for medical and business purposes," Mr Joyce said.
Earlier, a spokesman for receiver KordaMentha said he wanted to talk to staff before announcing the company's future.
''It's very early days and we'll be having that discussion with employees in the morning,'' he said.
According to KordaMentha, the airline owed millions of dollars to creditors although the exact amount wasn't clear.
''We've really only just walked in the door, it's too early to say,'' the spokesman said.
''We've got to do a bit of a search before we commit ourselves to a figure.''
The move came after eight of Brindabella Airlines' 12 aircraft were grounded last week for maintenance reviews by the Civil Aviation Safety Authority.
It was the latest in a long line of maintenance issues for the company.
KordaMentha called for expressions of interest on Saturday to buy the airline and said no new bookings would be accepted during the sale process.
Brindabella Airlines was founded in 1994 and based at Canberra Airport.
Its services included flights from Sydney and Canberra to Cobar, Moree, Mudgee, Narrabri and Cooma, in addition to freight services.
KordaMentha's David Winterbottom and Sebastian Hams were appointed receivers and managers of the airline.
Mr Winterbottom said he wanted to avoid as much inconvenience to customers as possible with Christmas just around the corner.
"Given the approaching Christmas and new year period we will be working very hard to minimise the inconvenience to customers and importantly, enable alternative travel options,'' he said.
Mr Winterbottom said part of Brindabella Airlines' debt related to maintenance issues and the current state of the airline industry.
He was meeting with New South Wales government representatives on Monday.
Virgin Australia and Regional Express are both adding extra services to assist passengers caught up in the collapse.
Virgin said special airfares would be put in place for Canberra-Newcastle and Brisbane-Coffs Harbour for travel until 20 December 2013.
Regional Express is working to provide additional flights to some regional communities.