Bullet Train party vies for votes
Nine political parties, including two newcomers, will be allowed to contest this year's ACT election.
ACT Electoral Commissioner Phillip Green said it was now too late for other parties to get on to the October 20 ballot paper, although candidates would be able to register as independents and run in the ''ungrouped'' section.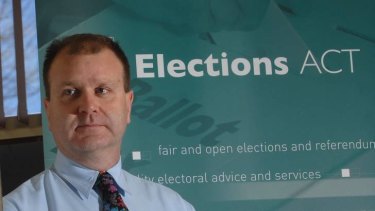 ''Two new political parties have been added to the register of political parties in the last week. Bullet Train for Canberra and the Marion Leˆ Social Justice Party are now registered in the ACT,'' Mr Green said.
The parties previously registered were ACT Labor, the Australian Motorist Party, the Liberal Democratic Party, the Canberra Liberals, the Pangallo Independents Party, the ACT Greens and the Community Alliance Party.
''Registered political parties are able to list their party name or their abbreviated name on ballot papers and receive public funding of election expenses,'' Mr Green said.
The Pirate Party - which says it fights for ''freedom of information and culture, civil and digital liberties, and governmental transparency'' - is also expected to run three candidates.
However, the party fell six members short of being able to register in time for the election.
The No Carbon Tax Climate Sceptics Party has also previously expressed interest in running candidates. And Michael Lindfield has indicated he plans to stand as an independent in Brindabella.
Registered parties do not need to contest the election, although all except the Pangallo Independents have already indicated they will run at least one candidate.
A spokesman for Frank Pangallo said recently the former Queanbeyan mayor had not yet decided whether he would contest this election.
Bullet Train For Canberra Party secretary Michael Lemmey said the new party could help provide the courage to commit Australia to a high speed rail network that has eluded politicians since engineers first raised the idea in 1981. The party estimates $49.5 million has been spent surveying proposals, but politicians have ignored credible reports going back to CSIRO's very fast train findings in 1984.
Engineering consultancy AECOM's second and final stage report on track alignment and costs to date on a $100 billion east coast network is due in December.
Mr Lemmey said the latest investigations gave members no comfort because previous reports had established strong cases, yet leaders had baulked.
''And the worry is that this next study will be just that - another study, another lot of discussion and talk without any genuine result,'' he said. ''We are hoping to see from this discussion a commitment at the very least from our politicians to actually make this happen.''
A Liberal Democrats spokesman said the party would run two candidates in the Belconnen-based electorate Ginninderra, including Matt Thompson. It was also considering running candidates in the central electorate, Molonglo.
''[Mr Thompson is] a long-term Canberran, married with kids and knows a lot about the day-to-day life and struggles in Canberra and he is a strong believer in the resourcefulness of individuals as opposed to government intervention, so he fits in very well with the LDP mantra,'' he said.
The party formed in the ACT in 2001 and described itself as ''a serious, progressive, small-government alternative''.