Bunda Street to be shared by motorists, pedestrians and cyclists
The speed limit in one of Canberra's central shopping precincts will be reduced to 20 km/h as part of an ACT government plan to create a shared space for all cars, pedestrians and cyclists.
Territory and Municipal Services Minister Shane Rattenbury will on Saturday announce plans to integrate all road users in Bunda Street, with the removal of traditional traffic control measures such as line markings, curbs and signage in the area.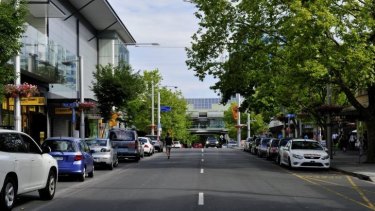 The changes, part of government efforts to revitalise Canberra's city centre, could bring about a reduction in cars and parking in the shopping area.
The roadway will be raised to the level of current footpaths at intersections, existing pedestrian crossings will be removed, and new trees, lighting, street furniture and bike parking facilities will be added.
Mr Rattenbury said work would begin on Monday and result in a slow-speed environment, with extra signs at entry points to warn road users of the changed conditions.
The works are the final stage of the government's $6 million Civic Cycle Loop project, which gives cyclists a 3 kilometre path that connects to existing cycling infrastructure.
Mr Rattenbury said planners had considered adding a traditional cycle lane to Bunda Street, along with Rudd Street, Marcus Clarke Street and Allara Street.
The design, which includes bolted-on pavement treatment, was instead chosen to avoid creating a risk of collisions between pedestrians and cyclists travelling at speed.
"It is well tested and used in other places," Mr Rattenbury said. "Because people are sharing the space, they simple develop a greater awareness of other users.
"It will mean we have to do some education about how a shared space works, whose people's right of way is and what their responsibilities are. That work will roll out as we put these works in place."
Construction will be carried out in two stages to minimise disruption to traders and visitors to the area. Work will begin at the intersections of Bunda Street with Mort Street and Scotts Crossing.
Intersection closures are planned before completion in early 2015.
Mr Rattenbury said footpaths would remain open during the entire construction period and access maintained for delivery vehicles, while construction would be minimised during the Christmas and New Year period to allow for increased shopping activity.
During stage one, access to Bunda Street will be from Murulla Lane, Genge Street and Petrie Street.
Signs will be erected on site to alert visitors to the work and advise of detours.
"The shared space is really based on the principle of equality for all users of the space," Mr Rattenbury said. "Each of the user types needs to be mindful of the other and use the space in a way that is caring for others."
The announcement comes a week after Opposition planning spokesman Alistair Coe called for increased traffic in the city, fearing it could be "abandoned".
Mr Rattenbury said the threat was outdated in Canberra and the city was improving.
"It does encourage outdoor, vital space, in the same way Lonsdale Street [in Braddon] has become revitalised," he said. "I can see an area like this having similar popularity."
Tom McIlroy is a political reporter for The Australian Financial Review in the federal press gallery at Parliament House.