Bus service upgrades to counter paid parking plan
A bus station in Barton, two bus stops in Parkes and a bus lane along Canberra Avenue will be built for $9.7 million, partly to accommodate people who don't want to pay for parking in the Parliamentary Triangle.
The ACT government was funding the work, with Territory and Municipal Services Minister Shane Rattenbury saying servicing the triangle was not only about providing more buses.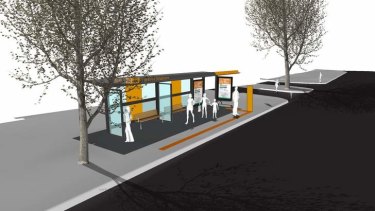 ''The question has been raised, 'Why spend money on bus stops? Why not get more buses in there?'. It's not an either/or situation,'' he said.
''We need the infrastructure, we need the good facilities. There's also a review going on at the moment of the ACTION network, due to kick in in early 2014, and obviously the changes to parking in the Parliamentary Triangle will very much inform that review.''
Mr Rattenbury said the work was commissioned before paid parking was approved by the federal government but should be completed before its introduction from July next year.
''People are not thrilled about [paid parking], that's clear, but I guess the job for the ACT government, and particularly ACTION, is to make sure we're providing a good alternative for those who don't want to pay to park and they've got a viable way to get to work,'' he said.
''That may be driving to a park-and-ride, then getting a bus into the Parliamentary Triangle, cycling to the Woden Interchange then catching a bus. We have to make sure we're providing a good array of alternatives.''
The work included a dedicated bus lane on an 800-metre section of Canberra Avenue between Hindmarsh Drive and the Monaro Highway.
''This major project will reduce bus travel times, especially for people travelling to Barton, and especially during peak periods," he said. "The Canberra Avenue bus lane will assist cross-border transport and hopefully encourage more Queanbeyan-Canberra commuters to make use of buses, helping to reduce congestion and parking pressures.''
Mr Rattenbury said the bus lane should quicken the ACTION Red Rapid 200 service from DFO at Fyshwick to Gungahlin via Wentworth Avenue as well as Queanbeyan-based services bringing commuters across the border.
''Huge numbers of people come from Queanbeyan every day, literally in the tens of thousands, and it is one of the congestion problems around the city.
''But in some way, if we get more people on the buses, that will also help congestion.'' he said.
A shared walking/cycling path would also be built on Canberra Avenue with lighting and a signalled pedestrian crossing on Geelong Street.
The Barton bus station would be built on National Circuit. The work also included two new bus stops on Kings Avenue and upgrades to four existing bus stops on Kings Avenue and Commonwealth Avenue ''to include more comfortable seating and space for future electronic 'real-time bus information' displays''.
"During peak time in Barton, buses arrive every few minutes, making these stops busy commuter points for people working and visiting the area. The upgrade will also expand the stops to allow multiple buses to stop at the one time,'' Mr Rattenbury said.
Opposition transport spokesman Alistair Coe says the almost $10 million in new bus facilities announced by the ACT Government for the Parliamentary Triangle and Canberra Avenue will do little to encourage more people on the buses.
"The government has a warped notion that any spending is good spending," he said.
"Whilst bus priority measures on Canberra Avenue and new bus shelters are a goodthing, and have after all been promised for years, they alone will have very little impact on bus patronage.
"The key issues for public transport networks anywhere are: reliability, frequency and direct services. [Wednesday's] announcement does not tackle any of those issues.''
Mr Coe said the government was dodging the real issues that needed to be addressed to make the ACTION network more attractive to potential passengers.
"If the ACT Government is serious about improving bus patronage, they will not hide behind new bus shelters on Commonwealth Avenue as being the answer,'' he said.
The Parkes and Barton upgrades were expected to be completed by October this year; the Canberra Avenue works were expected to be complete by mid next year.