Businesses call for West Basin delay, control of begging and charity collectors in city centre
Canberra CBD has called on the ACT government to delay selling land at West Basin beside the lake until the state of the declining city centre improves.
Concerned about the government opening yet another development front while rents, tenancies and business fortunes continue to decline in the CBD, the business group also says the tram should be delayed until the city centre population at least doubles.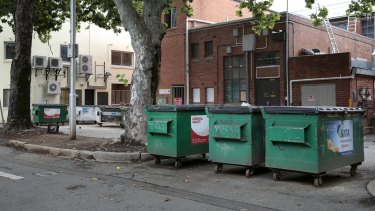 Begging in the streets and people spruiking for charity have also drawn the ire of Canberra CBD.
Chairman Tony Hedley has asked the government to increase funding for more police to deal with begging, antisocial behaviour and "groups with dogs".
Referring to charity fundraisers on the streets, CBD chief executive Jane Easthope said the street sellers upset pedestrians and affected retailers, as the public headed indoors or elsewhere to avoid being approached.
She called for rules on where they could sell, perhaps requiring they set up behind a table.
Referring to West Basin, she said the government risked creating an "island of decay" if it opened the area to development without proper connections from the lake to the city.
West Basin was "beautiful and irreplaceable", she said.
"When you go and develop a parkland site as valuable and beautiful as West Basin, the connectivity . . . needs to link back into the city, and that is the challenge," she said.
"New Acton is a very fine example of place making, but it's actually an island. The connectivity to and from it isn't really that pleasant. We don't want to create any more of them until we fix up what we've got."
The government is pushing ahead this year with a new park, boardwalk and lake reclamation at West Basin, the land between Commonwealth Avenue and the lake which is to be home eventually to apartments, shops and restaurants, and a lake-linked swimming pool.
Land Development Agency chief executive David Dawes said it was planned to release land for 200 apartments and 5000 square metres of commercial space in 2016-17, with similar amounts in each of the following two years.
However, the details were yet to be confirmed, and the timing was subject to the development of the waterfront promenade and the final alignment and timing of Parkes Way.
Ms Easthope said the government would get a better price if it waited until city values improved.
She and Mr Hedley made their comments partly in a submission to the government's 2016-17 budget, where they also called for a $1 million fund to help businesses repair and upgrade the heritage Sydney and Melbourne buildings and $1.2 million to improve Verity Lane, the Sydney Building laneway.
Land values were falling in the city centre, and, as a result, the city improvement levy collected from businesses was also falling because it was based on land value, Canberra CBD said.
The amount collected from about 550 businesses is down from $2.1 million in 2010-11 to an expected $1.8 million this year, falling steadily in the coming years to $1.6 million.
"Increasingly, our members tell us how difficult it is to do business, rates are increasingly excruciating, rents are declining, tenants are difficult to find," the group said in its submission.
"The population is declining, vacancies are increasing and the older mid-city precinct is visibly underperforming."
Canberra CBD wants the government to begin garbage collection and street sweeping in the Braddon area, and limit laneway garbage collection to one per laneway, reducing the number of bins.
It wants $15,000 a year of matched funding for city art projects and it also wants to be given responsibility for the $150,000 spent on graffiti removal.
Ms Easthope stressed the government was working positively with business owners, especially through the new Access Canberra, designed to strip away government red tape.
"It's important that we progress towards a common future rather than antagonising one another," she said.
". . . We're just simply making a statement that [the city improvements levy] has been declining and it's indicative of the economic health of the city. It's just a fact, read into it what you like, that land values have been declining in the city."
Kirsten Lawson is news director at The Canberra Times