Busy bees reclaim neglected land
Nine years ago, the old sheep camp at Mount Majura was overrun by weeds as a result of increased recreational use and overgrazing by sheep, rabbits and kangaroos.
Dumping of garden waste also affected native trees and shrubs.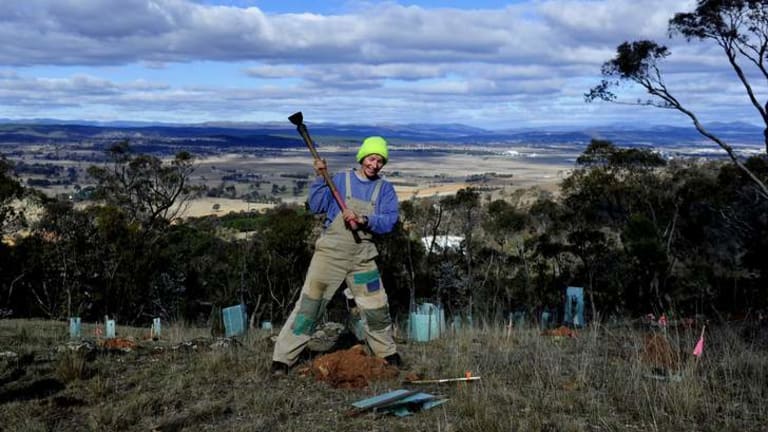 But volunteers are slowly bringing it back to its native glory.
Jochen Zeil, a founding member of the Friends of Mount Majura, said the first time volunteers went to the area it was "absolutely covered" with unwanted plant species.
"I remember huge groups going in there with mattocks and putting the weeds into bags," he said.
"It was initially a huge effort to control weeds there.
"There were several years of planting trees and shrubs and then continuing to protect them from kangaroos, rabbits and grazing and watering them in times of drought."
Slowly but surely, the group has brought the area back to life.
Mr Zeil said regular "low key" maintenance was crucial to the continued rehabilitation of the site.
That includes regular working bees such as Sunday's replanting - a monthly ritual that involves the planting of native grasses and shrubs such as wattle and drooping she-oak. The replanting and weed removal is tracked in photos on the Friends of Mount Majura's website .
Mr Zeil said the project was an example of what community groups could do to protect their native parklands.
"There are many sites like this from the times of grazing that have had tremendous amounts of nutrients in the ground, and that has also helped weeds to grow," he said.
"Without volunteers we would not be able to [fix] that.
"It's really wonderful to see how an area like that can start to look good again."
For volunteer Tom Pickard, Sunday's efforts should be rewarded by more uplifting experiences with glossy black cockatoos.
He joined the planting bee to clock up 25 hours of community service for his Duke of Edinburgh Award.
Tom, 15, who lives on a farm nearby, said planting she-oaks would provide seeds for the big red-tailed cockatoos. ''I have seen them a couple of times,'' he said.
''I like them better than the white, sulphur-crested ones; they are a bit rare, more special.''
Morning & Afternoon Newsletter
Delivered Mon–Fri.