Canberra Airport taking off with latest support for same-sex marriage
The owners of Canberra Airport have unveiled their latest high-profile support for same-sex marriage and called on businesses to help employees take part in the national postal survey.
New signs promoting a 'yes' vote were unveiled in the terminal on Friday, the latest support for changes to Australia's marriage laws by the Snow Family.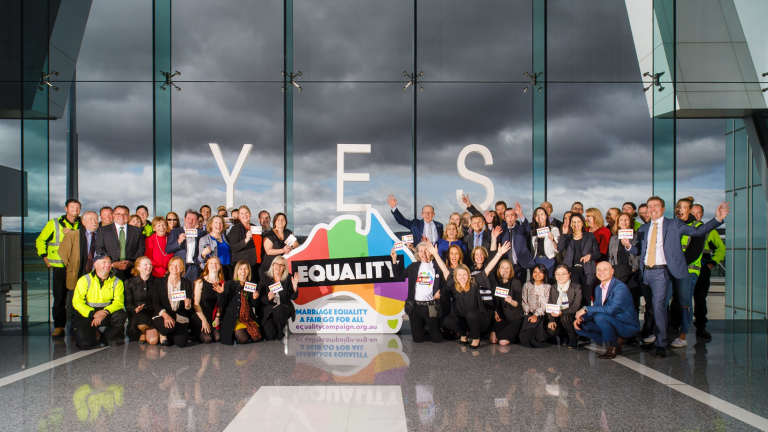 Passengers waiting in the terminal cheered airport staff posing with the signs.
Airport boss Stephen Byron said travellers coming and going from the capital would see rainbow lights and support for same-sex attracted Canberrans on information signs.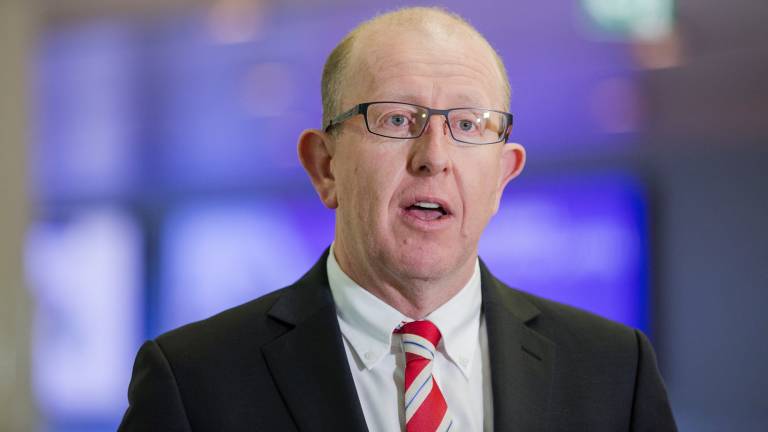 "It's a call to action and a reminder - because this is an unusual situation where it's not a compulsory vote and it's really important that people think about the issue and take the small amount of time to cast their vote," he said.
"The Canberra community is broadly supportive of the issue of equality in marriage but I think what's been most interesting is people are feeling more comfortable about telling their personal stories of challenges where family members have struggled going through that process of coming out and being scared of not being accepted."
Mr Byron said airport staff were being encouraged to return their completed survey ballot to work, making it easier to participate in the process, regardless of their views.
"It's one thing to have a letter box at home to find the envelope that the government has sent you, then you have to fill it out, and the third thing is you have to post it. The hardest thing is posting it.
"One of the things we've done as a Canberra business is tell our staff to vote however they like but drop their envelopes in at our office for posting. We're saying that to staff to make it easy for them to participate in the democratic process."
He called on other businesses and workplaces to encourage participation in the non-compulsory process.
Australians are encouraged to return their survey forms by October 27. The Australian Bureau of Statistics will close receipt of forms at 6pm on November 7.
The Snows have been among the most vocal supporters of a change by federal Parliament, including targeting federal MPs and donating to the national 'yes' campaign.
Mr Byron spoke about his family's firsthand experience and approaches from friends who have a same-sex attracted family member, describing the conversations as a potential silver lining of the contentious national debate.
"A couple of times I've had friends come to me because they know I've had the experience of my brother sharing with us that he's gay.
"More recently someone told me his 20-year-old son was gay, and he just wanted the reassurance that his son would be OK and wouldn't be picked on.
"I was able to do that because I am familiar with the fact that we treat gay people better than we used to. I couldn't quite say that we treat them as equal when I can get married but his boy isn't allowed to," Mr Byron said.
Tom McIlroy is a political reporter for the Financial Review in the federal press gallery at Parliament House.