Canberra Airport's international terminal has won an interior design award.
The terminal was awarded the Best of Commercial Design gong in the ACT category at the Australian Interior Design Awards, which were backed by the Design Institute of Australia.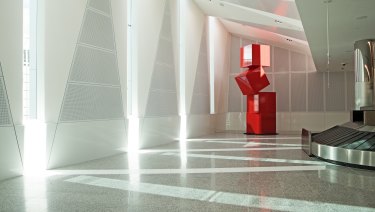 Guida Moseley Brown Architects designed the terminal, which includes floor-to-ceiling windows and a sculpture by Japanese artist Hariyuki Uchida.
Canberra Airport managing director Stephen Byron said improving the international terminal had been a 20-year journey.
"Transforming the airport into an international destination for visitors from around the world and making it a welcoming home port for Canberrans has been a twenty-year journey and we are so proud of this award," he said.