Canberra author L. J. M. Owen releases second novel Mayan Mendacity
A semi-fictional version of Canberra has been brought to life again in local author L. J. M. Owen's second novel, Mayan Mendacity.
Her first novel was initially launched through a Kickstarter crowdfunding page, and Owen said she never intended to try and get it traditionally published.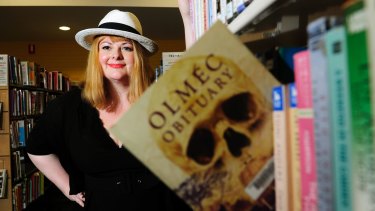 "Because I had heard so many awful stories about people trying for years to be picked up by a traditional publisher and that it was very demoralising so I thought, well, I wouldn't even try that until I was three or four books into the series," she said.
Instead, she was contacted by a literary agent and Olmec Obituary was published in November last year.Almost a year later, its follow up, Mayan Mendacity – the second of nine planned books in the series – is about to hit stores.
The book continues to follow Dr Elizabeth Pimms, this time investigating tiny skeletons and misshapen skulls recovered from a Guatemalan island.
The books are based in a semi-fictional version of Canberra, and are particularly based around a semi-fictional version of the National Library where Owen used to work.
"It's very obvious to anyone who's been to the National Library that the 'Mahoney Griffin Library' is based on the National Library," she said.
"It's got the beautiful marble foyer and the glorious stained-glass windows, but there's going to be a body or two strewn about the place in [my book] – so I wanted to make it very clear that it's not actually the National Library. They don't have a murder problem that I'm aware of."
Also featuring in the second novel is Queanbeyan's Benedict House, the National Botanic Gardens and Canty's Bookshop in Fyshwick.
The novel officially launches at the National Library of Australia on Thursday, November 3, at 6pm. The event is free but tickets are required from nla.gov.au/node/9549.