Canberra band rocked by TV show's song misuse
The lyrics of Canberra band TONK's song Golden Girl now carry a healthy dose of irony, after a hit US TV show used the song twice without the band's permission.
While the producers of television sitcom How I Met Your Mother only used the heavy guitar riffs of TONK's rock tune, the opening lines of the song, "Out in the streets, it's a dirty dirty living," are apt, given the way the music made its way onto television screens around the world.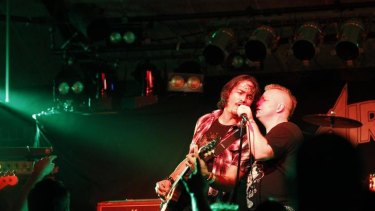 The band's drummer, 27-year-old Tristan Davies, told triple j's Hack program last night that despite another band being used to play their song, the mishap has actually turned into a big win for the group.
"The exposure was great and we were blown away by the fact that they would even consider something that we'd done - some s***house band in Canberra that no-one's ever heard of," Davies told the program.
The misuse of the song came to the band's attention when they were repeatedly congratulated via Facebook on their appearance on the show.
When they finally discovered where the music had been used on the show - a scene in a strip club in season six - TONK realised that it wasn't even them playing the song.
"Sure enough it was our song, but not us," Davies said. "They've got the guitar tones pretty similar, the drum groove kind of similar."
The band then got in touch with the producers of the show through their US agent, and were eventually rewarded with a payout from the Fox network.
But a short time later, the song was used again on the show without permission, after the program neglected to remove it from the list of approved music.
After a second payout from Fox, TONK is now hoping for some legitimate work from the network in the future.
According to the band's Facebook page, TONK formed in 2005. Their debut album, Sister Switchblade, which includes the song Golden Girl, was released in 2007.