Canberra choir just for teenage boys with breaking voices begins rehearsals
Teenage boys encounter a lot of change while going through puberty, in particular their voices.
But one thing that Kimberley Steele doesn't want to change, however, is a love of singing.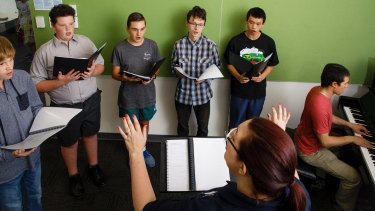 The artistic director of the Woden Valley Youth Choir said she wants to see more boys continue singing into adolescence, creating a new choir tailored specifically for teenagers with changing voices.
The ensemble, called Centauri Voices, gathered together for the first time this week, and already have performances planned.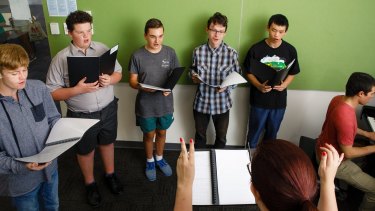 "The message is about empowering young people, and it's about finding songs that we think the boys will engage with, with a combination of both fast and slow," Ms Steele said.
While teenage boys with breaking voices are prone to the occasional pop or crack, Ms Steele said that doesn't pose a problem when performing.
"Learning to sing when the voice is changing is like learning to ride a bike again, you have to learn how to control it through the changes," she said.
"It's all about singing in a range that's appropriate, and we've developed exercises to learn how to use the voice to sing when it does change."
In the 48 years the youth choir has been running, Ms Steele said it's primarily been a treble choir, meaning the repertoire performed was often well out of the vocal range of boys once their voices began to change.
As a result, many boys have had to leave the ensemble once they get older, but now those with a passion for singing are able to continue.
"At the moment, the group has 10 boys, which is a good number to start with, but we're trying to encourage as many as possible," Ms Steele said.
She said many choirs were female-dominated, with boys dropping out around the time they reach high school.
"One of the biggest challenges with Australian culture is that we don't allow for the boys to sing, because there's the perception that they should all be playing sport instead of the arts," she said.
"I would love to turn that around and give boys the space to meet other people who are like minded."
The artistic director said a range of works were already in the pipeline for the group, including pop to rock and classical choir repertoire.
She said she hoped for Centauri Voices to grow to allow more teenage boys to continue singing, long after their voices have changed.
"I want for young people to feel creative, capable and confidant in what they do," Ms Steele said.
Andrew Brown is a journalist at the Sunday Canberra Times. Andrew has worked at the Canberra Times since 2016.