Canberra citizens' jury has 'long way to go' on CTP insurance advice
Canberra's first citizen jurors were warned they had a long way to go as they took their first steps to weigh changes to compulsory third party insurance.
Fifty members of the citizens' jury met for the first time to examine the ACT's at-fault, common law compulsory third party insurance scheme and consider any adjustments at the weekend.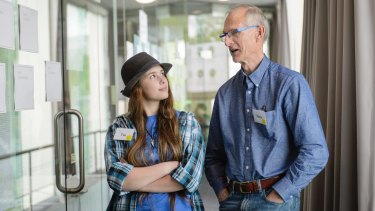 Chief Minister Andrew Barr hoped the deliberative democracy exercise would be a "circuit breaker" to reform the scheme for nearly 300,000 affected motorists in the ACT after years on the political agenda.
But lawyers have criticised the jury process as "shambolic" and expressed alarm such an important matter would be considered in "such an ad hoc and disjointed manner".
Jury members spent their first day learning about the CTP scheme with sessions including "CTP 101", and "understanding unconscious bias" on Saturday.
On Sunday, they heard from legal groups, insurers and healthcare consumer associations before they covered witness selection, scheme objectives and "tensions and trade-offs".
Democracy Co co-chief executive Emma Lawson said: "They started to think through what they want to say and what they think the objectives should be."
She said the witness list would be confirmed before the jury returned for a witness workshop on its third day in a couple of weeks.
Speakers would address the jury on central topics they had identified including who was covered, what benefits motorists were covered for and fairness in claims determination.
Facilitator Chad Foulkes​ told jury members on Sunday afternoon: "You've done a lot, you've come a long way.
"There's still a long way before the [stakeholder reference group] gets your report."
Jurors will meet over two weekends in October, before findings are handed to a stakeholder reference group.
As part of the plan, jury members will meet a third time to make a final determination on which model is best for the community, before the government considers a reform package.
Ms Lawson said: "They're having fun, but I also think they're finding it quite challenging.
"It's a complex issue and they've got to get their heads around lots of bits and pieces, but I hope they ultimately find it rewarding."
The jury is part of the government's $2.8 million trial, with a planned second panel to focus on developing a new carer's strategy for the ACT.
Megan Gorrey is the Urban Affairs reporter at the Sydney Morning Herald.